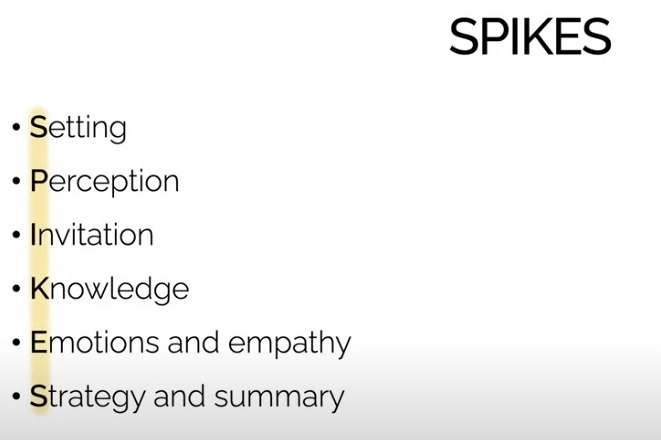 Setting
Mnemonic: IPC
Introduce yourself
Identify patient with 2 pieces of information like name and DOB
Infection control measures (wash hands or sanitize hands)
Involve significant others (establish whether the patient would like someone to be in the consultation with them)
Privacy must be arranged
Pager must be silenced
Consent must be taken
Perception of condition/seriousness
Take a brief history to identify important symptoms
Elicit "ICE" history (Ideas, Concerns and Expectations)

Accept denial but do not confront at this stage
Invitation from the patient to give information
Ask patient if s/he wishes to know the details of the medical condition and/or treatment

Accept patient's right to not know
Offer to answer questions later if s/he wishes

To find out what your patient wants, simply ask questions like:

Would it be helpful for you to know what to expect from here on out with your illness?
Would it be OK if we talk about some serious issues with your care?
We have these lab tests back. Can we talk about them?
Knowledge – giving medical facts
Fire a warning shot, e.g. "I'm afraid the results are worrying", "This may be serious than we originally hoped".
Keep the terms simple and direct, e.g. use "cancer" instead of "growth" or "malignancy"
Break the news in small chunks
Give any positive aspects first, e.g. "cancer has not spread to lymph nodes", "treatment is available locally", "it is highly responsive to therapy", etc.
Avoid giving false hopes, despite the need for confirmatory test
Give facts accurately about treatment options, prognosis, costs, etc.
Explore Emotions and Empathize
Identify emotions expressed, give them time to respond and allow them to express their emotions.

Silence – avoid the temptation to fill it, give them a few moments to respond
Cries – offer them tissue and allow them to express their emotions

Use the mnemonic "NURSE":

Name: "It sounds like you are distressed", "I wonder if you are feeling angry"
Understand: "If I understand what you are saying, you are worried how your treatment will affect your work", "People going through your situation often report experiencing….. is that how you feel?"
Respect: "I'm impressed with how well you have handled this"
Support: "I'll be with you during the treatments", "Please let me know what I can do to help you"
Explore: "Can you tell me more about this?"
Strategy and Summary
Strategy – Give a clear plan but avoid too much technical information

Advise CT scan or biopsy if needed
Mention about treatment options

Ask whether they want to clarify something

If the patient asks how long they have to live, never give a precise answer. Ask for specific reason why they would like to know.

Arrange a follow-up appointment as appropriate. Offer agenda for the next meeting.
Leave contact details, e.g. bleep number as appropriate
Close consultation and thank the patient
SPIKES protocol in application
Practice:
https://www.oscesense.com/osce-practice-communication-breaking-bad-news-2
References:
DrExam Part B MRCS OSCE Revision Guide Book 2