Epomedicine is the amalgamation between medical journals and medical blogs that is commited to deliver concise, to the point, reliable and referenced knowledge with mnemonics, flowcharts, tables and bullets.
Since it's inception in 2013, the Epomedicine team has grown steadily. We are always looking for enthusiastic people to join us and be part of this medical education project which will help your juniors and peers.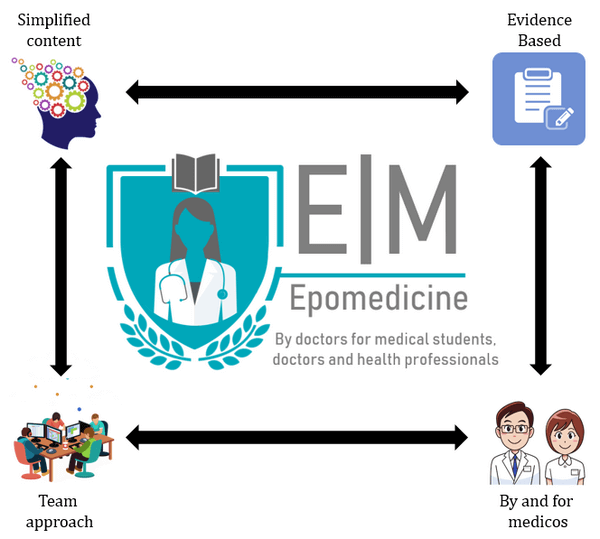 Meet the Epomedicine team.
Marking the 8th year of Epomedicine, we conducted a small email survey and the results are here:
a. Where did you hear about Epomedicine?
b. How would you rate Epomedicine from 1 to 10?
c. How has Epomedicine helped you? Do you have any suggestions for us?
Makes learning a lot easier
It has helped me to pass the exams
It frequently helps me with teaching my students
Reviewing basics
It's simplifying my preparation….but the mnemonics are not for many topics… if there would be mnemonics for many other topics… it will be excellent
Helped me in developing my writing and presenting skills
Like to have a catalog of topics presented till now very useful
Not helped any thing. I hope in the future may I get better helped.
I used its mnemonics very often and it's helped me as a doctor in UK. Thanks guys really appreciate. Wonderful things comes out from that little country of Nepal 🇳🇵. Love you guys.
Some very helpful mnemonics to combat hard topics. Suggestions: It's so much helpful if free question banks (of every subject) are made and provided for all yrs of MBBS (mine is 2nd year MBBS).
I honestly regret not being able to come across Epomedicine before. I thank you all for the entire work you guys have done to simplify things for every med student. Especially for someone like me who has a hard time cramming stuff.
Knowledge based information.
No suggestion because you are the best. Epomedicine helps me alot.
It is a good tool for helping my students organize the content they have to learn.
Acquired more knowledge.
Media kit information (As of April, 2021)
Subscribers to Epomedicine weekly: 1,000+
Domain Authority: 33
Page Authority: 41
Moz Rank: 4.1
Alexa Global Rank: 333217
Citation Flow: 35
3 monthly google impressions: 12.6 Millions
3 monthly google search clicks: 1,95,000
Amp page compatible
If you have anything to share with us, write us at [email protected] or use this form.