Mnemonic: DEPRESSION
Major symptoms
Depressed mood
Energy loss or fatigue
Pleasure loss or anhedonia
Minor symptoms
Retardation or agitation (psychomotor)
Eating and weight change (at least 5% in the last month)
Sleep changed – insomnia or hypersomnia
Suicidial ideation or behavior
I'm a failure (Loss of confidence or self-esteem)
Only me to blame (guilt)
No concentration, Indecisiveness or inability to think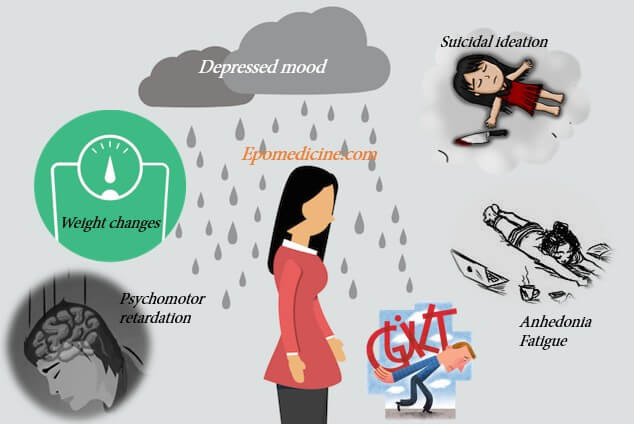 General criteria for a depressive episode
Duration: ≥2 weeks
Organic causes must be excluded: not attributable to the abuse of psychoactive substances or to an organic mental disorder.
Types of Depression
1. Mild depression: with or without somatic symptoms
2. Moderate depression: with or without somatic symptoms
3. Severe depression: with or without psychotic symptoms
ICD-10 criteria vs DSM-V criteria for Depression
While ICD-1o criteria recognizes loss of energy or fatigue as a major or key symptoms, DSM-V doesn't recognize it as a key symptom. Hence, DSM-V has only 2 key symptoms.
"Loss of confidence or reduced self-esteem" is not there in DSM-V criteria.
For diagnosis of Major Depressive Episode by DSM-V any 5 of the symptoms must be present with atleast 1 of the 2 key symptoms in same 2 week period (as in ICD-10).

He is the section editor of Orthopedics in Epomedicine. He searches for and share simpler ways to make complicated medical topics simple. He also loves writing poetry, listening and playing music.