Synonyms: Paleness
Definition of Pallor
Pallor is the paleness of skin and mucous membranes, due to the reduced amount of oxyhemoglobin or decreased peripheral perfusion.
Sites to look for pallor
Lower palpebral conjunctiva
Tip and dorsum of the tongue
Soft palate
Nail beds
Palmar or plantar creases
General body skin
Pallor in lower palpebral conjunctiva: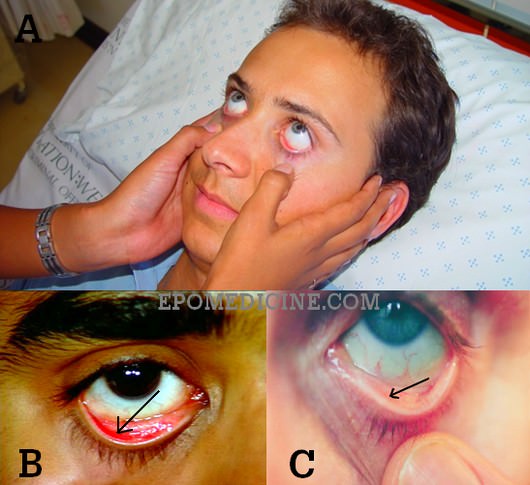 How (Technique)? Pull the lower eyelid down and compare the color of anterior part of the palpebral conjunctiva (attached to the inner surface of the eyelid) with the posterior part where it reflects off the sclera. There is usually a marked difference between the red anterior and creamy posterior parts. This difference is absent when significant anemia is present.
Use both your thumb to retract eyelids downward on both the sides simultaneously and as you do so, ask the patient to look upwards.
Why(Reason)? The mucosa over this region is very thin and the underlying vessels are clearly seen and the pallor can be judged.
Pallor in palms:
How? As the patient to hyper-extend the fingers. Compare the color of palmar crease with that of the adjacent skin of palm. Pallor is said to be present if both are of same color.
Pallor in nailbeds:
How? Press the nail and note the color of nailbed after releasing the digital pressure.
Causes of pallor
1) Anemia (can be appreciated clinically when hemoglobin <8-9 g/dl)
2) Pallor without anemia:
Physiologic ("fair skinned")
Shock
Hypoglycemia and other metabolic derangements
Respiratory distress
Skin edema
Pheochromocytoma
Pallor and Anemia
Although often used as synonyms, presence of pallor doesn't always indicate anemia. Pallor is a sign, while anemia is a diagnosis based on laboratory results. Anemia is the qualitative or quantitative dimunition of RBC and/or hemoglobin concentration in relation to standard age and sex.
Clinical grading of anemia:
Mild: Pallor of conjunctiva and/or mucous membrane
Moderate: Above + Pallor of skin
Severe: Above + Pallor of palmar creases
WHO grading of anemia:
Mild: 10 g/dl to cut off point for ages
Moderate: 7-10 g/dl
Severe: <7 g/dl
Hemoglobin thresholds used to define anemia:

Men (>15 years): 13 g/dl
Teens (12-15 years): 12 g/dl
Women, non-pregnant (>15 years): 12 g/dl
Women, pregnant: 11 g/dl
Children (5-12 years): 11.5 g/dl
Children (0.5-5 years): 11 g/dl
Tips to aid assessment
Look for the coexistence of other signs, which may help to aid the diagnosis of the etiology of anemia.
Tachycardia (Congestive Heart Failure/CHF)
Edema (CHF, nephritic syndrome)
Pulse volume (shock)
Nail changes (koilonychia and paltyonychia in Iron Deficiency Anemia; splinter hemorrhages in associated thrombocytopenia)
Skin changes (hyperpigmentation in megaloblastic anemia; petechiae in malignancies, aplastic anemia)
Lymphadenopathy and hepatosplenomegaly (malignancy)
Icterus (hemolytic anemia)
Quickly review a specific topic