Hilum in human anatomy refers to the depression where structures such as blood vessels and nerves enter an organ. The structures contributing to hilar shadows in a Chest X-ray are:
Major: Pulmonary artery and veins
Minor: Fat, Lymph nodes and Bronchial walls
Normal Hilum:
Position: Left hilum is slightly higher than the right hilum
Shape: Concave
Size: Similar on both sides
Density: Almost same on both sides
Approach to Analyzing the Hilum in Chest X-ray:
If the hilum appears abnormal, firstly re-evaluate for the rotation.
a. Analyze the position of hilum:
1. Identify main lower lobe pulmonary arteries: They can be compared to a little finger pointing downwards and medially. Sometimes, usually on the left side – it can appear only as the proximal phalanx of the finger.
Interpretation: If the little finger shadow of the right lower lobe artery is not seen then you must check for evidence suggesting collapse of the right lower lobe.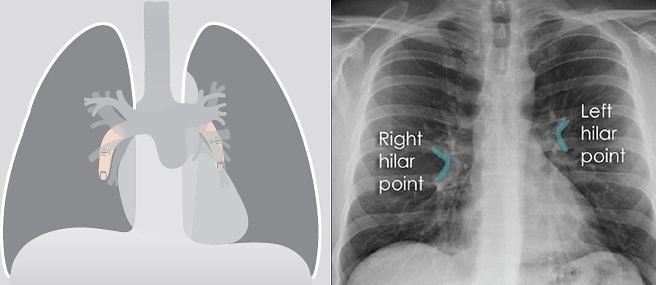 Read the full story »