Cephalosporins are one of the most widely prescribed antimicrobial drugs. They can be classified into 5 to generations and the medical students often have hard time remembering the names of drugs falling into different generations as the names appear and sound similar. This is a collection of mnemonics from different sources.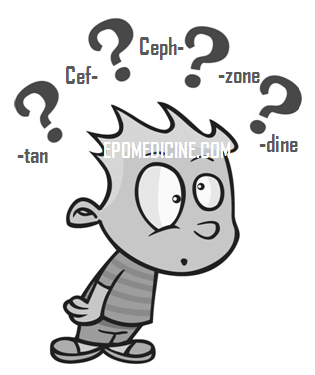 Classification of Cephalosporins
1st Generation
2nd Generation
3rd Generation
4th Generation
5th Generation
Oral
Parenteral
Oral
Parenteral
Oral
Parenteral
Parenteral
Parenteral
Ceph-a-lexin
Cef-a-zolin
Cef-a-clor (exception)
Cefuroxime
Cefixi-me
Cefotaxi-me
Cefi-pi-me
Cefta-ro-line
Cef-a-droxil
Cefuroxi-me axetil (exception)
Cefotetan
Cefpodoxi-me axetil
Ceftizoxi-me
Cefi-pi-rome
Ceftobip-ro-le
Ceph-a-ridine
Loracarbef
Cefoxitin
Ceftibuten
Ceftriaxone
Cef-qui-nome
Cefto-lo-zane
Cefprozil
Cefmetazole
Cefditoren
Ceftazidi-me
Cefdinir
Cefoperazone
Moxalactam
Mnemonic for Oral and Parenteral Cephalosporins
Parenteral:
All 4th and 5th generation cephalosporins
Have "t" except ceftibuten and cefditoren
Having "z" – zone, zolin, zole
Oral: Have "OR" in the name – Cefaclor, Cefditoren, Loracarbef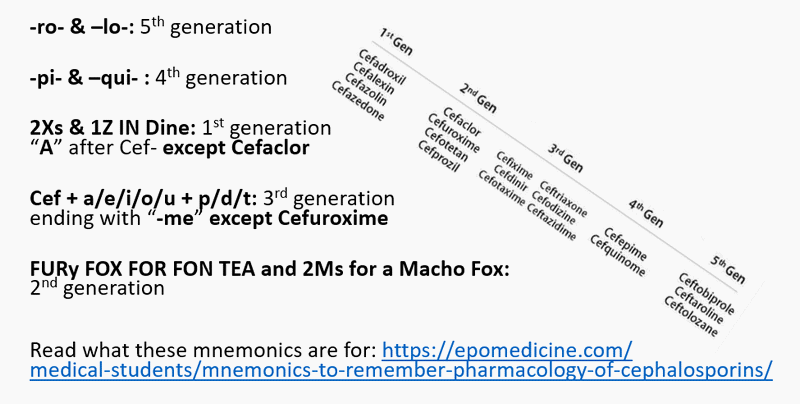 Menmonic to remember classification by generation of Cephalosporins
A. 5th generation:
With "ro" and "lo": ceftobip

ro

le, cefta

ro

line, cefto

lo

zane
B. 4th generation:
With "pi" and "qui": Cefe

pi

me, Cefe

pi

rome, Cef

qui

nome
C. 1st generation:
All cephalosporins having "A" after "Cef" are 1st generation except Cefaclor.
2 Xs and 1 Z in Dine
2 "X" – cefalexin, cefadroxil
1 "Z" – cefazolin
2 "IN" – cefalothin, cefaparin
DINE – cephradine
D. 3rd generation:
Cephalosporins ending with "me" are 3rd generation except cefuroxime.
"cef" +/- (a,e,i,o,u) + p/d/t
cefotaxime, ceftizoxime, ceftriaxone, ceftazidime, cefoperazone
cefixime, cefpodoxime, cefdinir, ceftibuten, ceftamet
E. 2nd generation:
FURy FOX FOR FON TEA and 2 Ms for a Macho fox
ceFURoxime, ceFOXitine, ceFORanide, ceFONicid, cefoTEtan
cefMandole, cefMetazole
Remember one more drug: Cefaclor
Flomoxef has been classified by different authors into different generations – 2nd, 3rd and 4th generations.
Short review of pharmacology of cephalosporins
A. Class: Beta-lactams (like Penicillin)
B. Mechanism of action: Disrupt cell wall synthesis by inhibiting transpeptidase (cross-linking)
C. Pharmacokinetics:
Most are excreted by kideny (tubular secretion).
2 "Zones" are secreted in bile: Ceftriaxone and Cefoperazone
D. Blood brain barrier (BBB) penetration:
1st generation: No BBB penetration
2nd generation: Cefuroxime has highest among 2nd generation
3rd generation: Except Cefoperazone and Cefixime
E. Spectrum of activity:
| Generation | Gram Negatives | Gram Positives | β-Lactamase Stability |
| --- | --- | --- | --- |
| 1st | + | +++ | +/- |
| 2nd | ++ | ++ | + |
| 3rd | +++ | + | ++ |
| 4th | +++ | ++ | +++ |
| 5th | +++ | +++ | ++++ |
1st generation: Mainly Gram+


Gram – (PEcK): Proteus, E.Coli, Klebsiella

2nd generation: Gram- > Gram+


HEN PEcKS: Haemophilus influenzae, Enterobacter, Neissera, Proteus, E. Coli, Klebsiella, Serratia

3rd generation: Gram – >> Gram +


Ceftriaxone: Meningitis, Gonorrhea
Ceftazidime and Cefoperazone: Pseudomonas
Used to treat meningitis and sepsis (can cross Blood Brain Barrier)

4th generation: Pseudomonas
5th generation: MRSA
Activity against Bacteroides:

2nd generation: Cefoxitin, Cefotetan and Cefmetazole
3rd generation: Ceftizoxime (maximum)

Activity agaisnt pseudomonas:

Ceftazidime (maximum)
Ceftazolone
Cefoperazone

Cephalosporins don't have activity against: "LAME"

Listeria
Atypicals (including Mycoplasma

 and 

Chlamydia

)

MRSA (Except 5th generation)
Enterococci
F. Drug of choice:
Surgical prophylaxis: Cefazolin
Melioidiosis (Burkholderia psudomalleri): Ceftazidime
Gonorrhea, salmonellosis (including typhoid), E. coli sepsis, Proteus, Serratia, Haemophilus and empirical therapy for bacterial
meningitis: Ceftriaxone
Pseudomonal CNS infection: Ceftazidime or Cefepime or Meropenem (For GU and GI infections – Fluoroquinolones and Aminoglycosides)
Bacteroides: Metronidazole (Cefoxitin is an alternative along with clindamycin and chloramphenicol)
G. Adverse effects:
Drugs with methylthiotetrazole group: Cefamandole, Cefoperazone, Cefotetan, Moxalactam

Acts like oral anticoagulant (Vit. K antagonist): Bleeding (hypoporthrombinemia)
Disulfiram like reaction

Biliary sludging:
Taste disutrbance: Ceftobiprole
Non-bloody red stools: Cefdinir
Nephrotoxicity:

Cephaloridine (highest nephrotoxicity)
Cephalothin

Neutropenia: Ceftazidime
Thrombophlebitis (Parenteral)
Diarrhea
Anaphylaxis
Mnemonic: "DDT HAPeNS"

D – diarrhea
D – disulfiram like reaction
T – thrombophlebitis
H – hypoprothrombinemia
A – allergy (hypersensitivity)
P – pain (severe with i.m.)
N – nephrotoxicity
S – super infections with fungi
H. Summary mnemonics for generation of cephalosporins:
First Generation = "FA/PHA"
Second Generation

= "Everything Else"

Third Generation

= "ONE/TEN/IME"

Fourth Generation

= "PI" and "QUI"

Fifth Generation = "ROL"

He is the section editor of Orthopedics in Epomedicine. He searches for and share simpler ways to make complicated medical topics simple. He also loves writing poetry, listening and playing music.