Jugular venous pulse (JVP) waveforms
a – Atrial contraction (RA)
c – Closure and Curving of tricuspid valve into RA
x – atrial relaXation
v – Venous filling of right atrium (RA)
y – atrial emptYing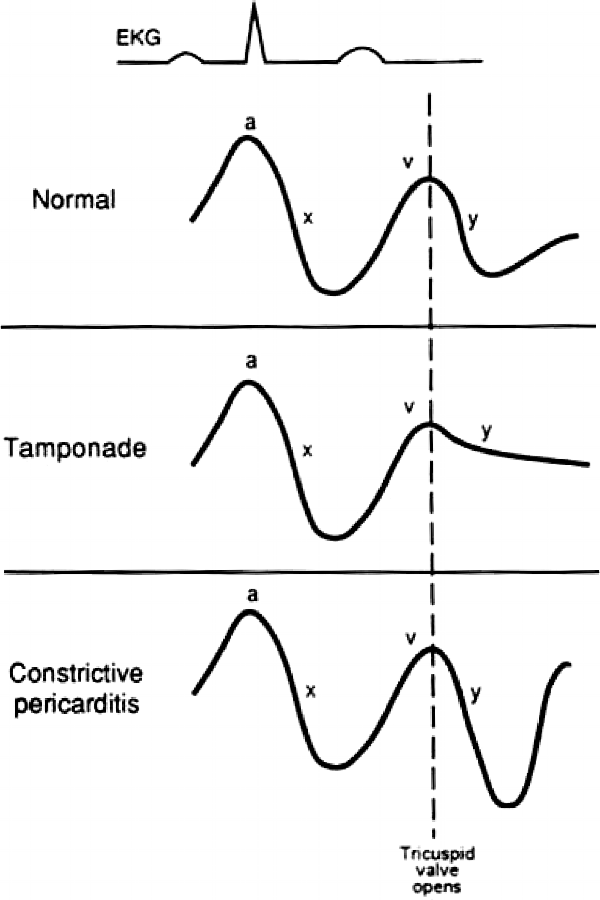 Distinguishing JVP from Internal carotid pulsation
Mnemonic: POLICE
Palpation: Non-palpable
Occlussion: Readily occludable
Location: Between 2 heads of sternocleidomastoid, lateral to carotid
Inspiration: Drops with inspiration
Contour: Biphasic waveform
Erect position: Drops when sitting erect
Abnormal JVP waveforms
Prominent "a" wave: Pressure of atria peaked
Tricuspid stenosis
Pulmonary hypertension
Cannon "a" wave: Contraction of atria against closed tricuspid valve
Complete heart block
Junctional rhythm
"a" wave fallen (absent): Atrial fibrillation
Large "v" wave: Vomit (backflow) of blood in right atrium
Tricuspid regurgitation
PaY TaX:
Sharp "y" descent: Constrictive pericarditis (Frierdrich's sign)
Sharp "x" descent: Tamponade and Constrictive pericarditis
Slow "y" descent": Slow emptYing of RA
Tricuspid stenosis

He is the section editor of Orthopedics in Epomedicine. He searches for and share simpler ways to make complicated medical topics simple. He also loves writing poetry, listening and playing music.