Synonyms: Courvoisier's sign, Courvoisier syndrome, Courvoisier-Terrier sign, Bard-Pic disease
Over years, the use of the term Courvoisier's sign or gallbladder has been suggested instead of law, because of rising number of exceptions.
Eponymous to: Ludwig Courvoisier (1843-1918)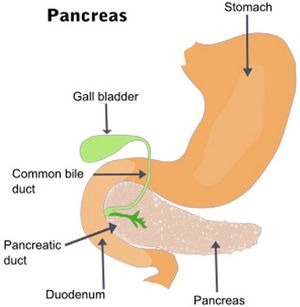 Definition of Courvoisier's law
Courvoisier's (koor-vwah-zee-ayz) law states that 'a palpable non-tender gallbladder in the presence of jaundice is unlikely to be due to gallstones'. It usually indicates a neoplastic stricture obstructing the distal common bile duct. A palpable gallbladder due to stones is usually tender i.e. due to acute cholecystitis.
Basis of Courvoisier's law
A gallbladder containing stones is likely to have been chronically diseased and subject to repeated, although possibly subclinical, episodes of cholesytitis. This results in extensive fibrosis of the gallbladder wall which is then unable to distend when obstructed. A contracted gallbladder is consistent with obstruction above the level of the cystic duct insertion
Converse of Courvoisier's law
The converse of this law is not true; the cause of jaundice in non-palpable gallbladder is not necessarily gallstones as 50% of dilated gallbladders are not palpable.
Differential diagnoses of Courvoisier's law
1. Periampullary tumors (Bulging papilla sign on radiograph):
Tumors of pancreatic head/uncinate process
Tumors of distal common bile duct
Ampullary tumors (of ampulla of vater)
Periampullary duodenal tumors
2. Pancreatic stricture: Chronic pancreatitis
3. Portal lymphadenopathy
4. Bile duct obstruction due to ascaris
5. AIDS associated cholangiopathy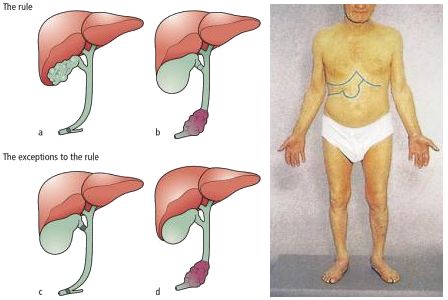 Exceptions of Courvoisier's law
1. Double impaction: Stones, simultaneously occluding the cystic duct and the distal common bile duct (CBD). The stone in the CBD cuases obstructive jaundice and a synchronous stone in the cystic duct leads to mucocele or empyema of gall bladder.
2. Pancreatic calculus obstructing the ampulla of vater
3. Oriental cholangiohepatitis (Ductal stones formed secondary to liver fluke infestation)
4. Periampullary carcinoma in patients with cholecystectomy
5. Mirizzi syndrome: A stone is lodged in Hartman's pouch causing intense inflammation in the region of Calot's triangle and compressing the common hepatic duct, while also obstructing the gall bladder; this causes the gallbladder to distend.
Double duct sign
The combined dilatation of pancreatic and common bile ducts is known as double duct sign and occurs most commonly in malignancy of the head of pancreas.