Difference between cytokines and chemokines
Cytokines are small proteins released by cells, the function of which is "cell-signaling".
Chemokines are small cytokines, which functions as a "chemo-attractant".
Types of Chemokines
When you go through the structural classification of chemokines, you come accross various arrangements of letter:
C: denotes cysteine
X: denotes other amino acids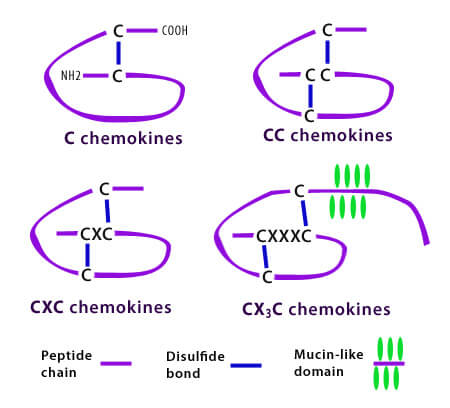 CXC (alpha chemokines): Acts on NEUTROPHILS.
C-C (beta chemokines): Acts on ALL LEUKOCYTES EXCEPT NEUTROPHILS
Monocyte Chemoattractant protein – 1 (MCP-1)
Regulated and Normal T cell expressed and secreted (RANTES)
Eotaxin
C (gamma chemokines): Acts on LYMPHOCYTES
CX3C (d-chemokine): Acts on Monocytes and T-lymphocytes
Only example: Fractalkaline
Mnemonic:
Just remember the timeline of cells during inflammation:
First to appear: Neutrophil
Then appears: Monocyte-macrophages (Remember as other leukocytes)
Then in chronic inflammation: Lymphocytes
In the order of decreasing "letters" in the subfamily of chemokines:
CXC = Alpha chemokines
CC = Beta chemokines
C = Gamma chemokines
CXC = Acts on neutrophils (IL-8)
CC = Acts on other leukocytes (MCP-1, RANTES, Eotaxin)
C = Acts on Lymphocytes (Lymphokines)
CX3C = Unique (Fractalkaline)