Assessment of gestational age can be made postnatally by either Dubowitz Score or New Ballard Scoring system. In sick infants, examination of Anterior lens canpsule vascularity with a +20D lens can be useful in assessing gestation and it needs to be carried out within 24 hours of birth.
Dr Jeanne L Ballard developed a scoring system based on neurological maturity and physical maturity to assess gestational age of babies. We are all well aware of the charts and scoring system but still many of us are not able to score appropriately and assign gestation age accurately.
Here is the chart –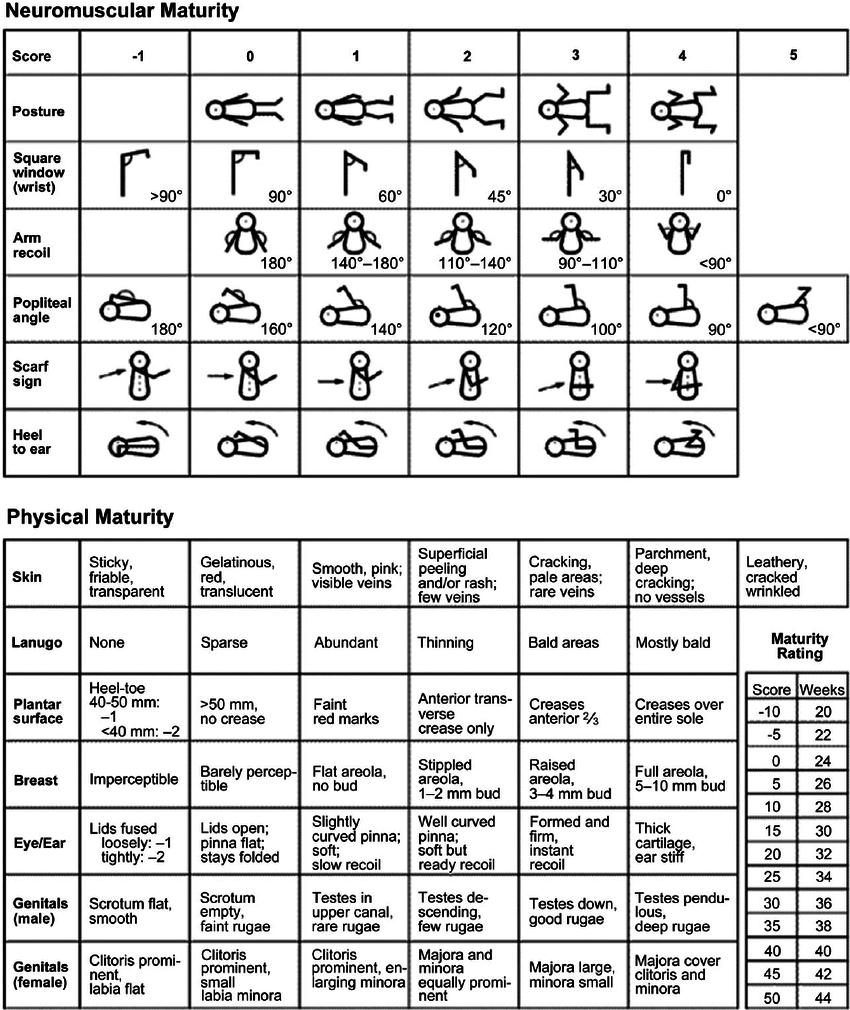 You can use online calculator as well.
The video below demonstrates the procedure of assessment.
When is the appropriate time to perform New Ballard score?
Performed between 30 minutes to 96 hours, ideally within 24 hours. However, studies have debated its validity up to 7 days.
For preterm babies < 26 weeks, it must be done in first 24 hours because on second day babies may suffer from consequences of prematurity.
In such a case, you have two options: Perform the remainder of the neuromuscular criteria, then assign a similar score to the popliteal angle and heel to ear. Wait 24 to 48 hours or until flexor tone has returned to the hamstrings and gluteus muscles, and repeat the assessment. For breech deliveries, there may be flexor fatigue in 1st 24 hours so, NBS is performed after 24-48 hours to avoid lower score for lower limbs.
Assigning score and gestational age
For scores between numbers on the grid, we interpolate as follows:
25 = 34 weeks
26 = 34 weeks
27 = 34 weeks
28 = 35 weeks
29 = 35 weeks
30 = 36 weeks
Record only completed weeks of gestation and not partial weeks.
If weeks by exam fall within 2 weeks of KNOWN maternal dates, preferably confirmed by early ultrasound, then the maternal dates are more likely correct.
If weeks by exam are greater than 2 weeks outside of maternal dates in either direction, then the clinical gestational assessment is more likely correct.
References:

New Ballard Score, expanded to include extremely premature infants. Ballard JL et Al. http://www.ballardscore.com/

Essential Neonatology- Mathur Validity of New Ballard Score until 7th day of postnatal life in moderately preterm neonates. Sasidharan K et Al

MD Pediatrics and Fellowship Neonatology, he chooses to stay anonymous. He often writes his views online as well as share few important topics for medical students, doctors and specially parents. He does research in pediatrics.