INFECTIVE ENDOCARDITIS INDICATIONS FOR SURGERY
A: Aortic valve, Annular Abscess
B: Block (heart block), Bacteremia (persistent)
C: Complications, CCF
D: Destructive penetrating lesion
E: Emboli
F: Fever despite appropriate antibiotics, Fungus
G: Growing vegetations
H: Heart failure, Highly resistant organisms
---
PROSTHETIC HEART VALVES COMPLICATIONS: VIP BEAST
V: Valve Obstruction
I: INR monitoring, Infective Endocarditis
P: Paravalvular regurgitation, Prosthetic mismatch
B: Bleeding
E: Embolization
A: Anemia (the smaller the ring leaks, the severer the hemolysis)
S: Structural failure
T: Thrombosis
---
CAUSES OF MI WITHOUT CORONARY ATHEROSCLEROSIS – MINOCA: CLEAN VASE
Clean: Coagulopathies (hypercoagulable states: PRV, Thrombocytosis, Factor V Leiden, PC&S def, APLS)
V: Vasculitis: SLE, PAN, TA, Kawasaki
A: Anomalous origin of coronary artery
S: Spasm: Variant angina, Cocaine, Kounis syndrome (check the 3 types, and do not give beta blockers)
E: Embolus: Atrial myxoma, A&V thrombus
---
FORRESTER DIAMOND CLASSIFICATION OF ACUTE HEART FAILURE (because I couldn't't remember what it was where!)
I remember it as the SUN & RAIN classification.
Imagine a house in the top left quadrant. Inside is Dry and Warm. Outside is Wet and Cold
So, on top is warm (because of the sun). At the bottom is cold (because seats outside the house)
To the left is dry (because is inside the house, to the right is wet because it is outside the house and rains (congested)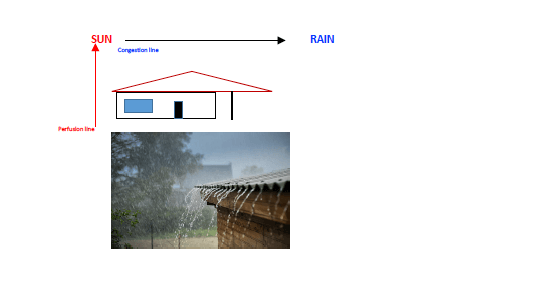 If SBP-DBP < 25%, then CO < 2.2
---
SOME DIFFERENCES
S1Q3T3APE
S1q3R3
Emphysema with marked pulmonary HTN
SISIISIII [SII>SIII]
The S wave should be greater than the preceding R wave in at least one of these leads
RVH basal region
S1: Acute Pulmonary Embolism
Immediately after the embolic event is broad and shallow, and changes to deep and narrow; usually undergoes rapid resolution Q3 (not pathological): is NOT ³ 0,04 sec or longer in duration & NOT ³ 25% of the ensuing R waveT3: means left axis deviation (-30°) of the T wave axis (simulates acute inferior MI)
In COPD & emphysema there is usually RAD of the frontal plane QRS axis.
With the development of marked pulmonary HTN, the QRS axis deviates further to the right clockwise to +120° or even +150°. In very severe cases is directed to the NW region
Anterior Wall Myocardial Infarction (Apical wall – permanent change; rSr' V1,2= El-Sherif sign)
RV dominance [RVH of congenital heart disease & acquired heart disease – cor pulmonale (with RAE)]Straight back syndrome [LAD -120° (»LAFB), rSr'V1, SII>SIIINormal healthy adults
---
DIFFERENCE BETWEEN SVT AND V. TACH: THE STUTTER
A: AV dissociation (confirms V Tach)
A: Absent BBB
B: Brugada sign: QS interval > 100 msec
C: Concordance (+ or -) monophasic
C: Capture beats
D: Dilated QRS > 160 msec Josephson sign
E: Extreme axis deviation: North West axis. Vereckei algorithm, + aVR
E: Ear rabbit left: Marriot sign
F: Fusion beats
---
STEMI MIMICS: when you see VPB (Ventricular Premature Beats) pray a few AVE MARIAS
V: Voltage
P: Pacemaker
B: Brugada
A: Acute coronary occlusion
V: Vasospasm [Kounis syndrome & Prinzmetal]
E: Early repolarization
M: Myo, pericarditis
A: Aneurysm, ventricular (Look for El-Sherif sign)
R: Raised K+, Ca2+
I: Intracranial abnormalities
A: Acute Pulmonary Embolism
S: Stress (Tako Tsubo), Spiked Helmet sign
---
LAW [LEFT ATRIAL WALL] CALCIFICATIONS
Porcelain LA or Coconut LA
Porcelain Atrium has implications for MV surgery
Almost all have atrial fibrillation (average duration 10 years)
Usually spares inter atrial septum
3 types ABC = AFP

A: Appendage only; almost always associated with LAA thrombus
B: for Be Free wall of the LA + MV
C: Confined to Posterior wall. McCollum patch results from a jet lesion 2° to MR

It may require endoatriectomy @ the time of valve replacement
Rule out ESKD & Endocarditis
---
CAUSES OF TR
A: Addict, Attack stabbing
B: BP­ (Pulm Arterial Hypertension), Blunt trauma
C: CCF, Carcinoid
D: Diseased valve (prolapsed TV)
E: Endocarditis, Ebstein anomaly
F: Fibrosis (endomyocardial fibrosis – very important in East Africa), Following PAH
---
SCHAMROTH PENTAD for typical HEBERDEN angina: 5 Key questions that Prof Schamroth used to ask to any px presenting w/ chest pain
One 1 finger vs fist (if px points with one finger, it's unlikely to be ischemia)
2nd wind (pxs with angina after some effort seems to possess a 2nd wind)
30" to 30 minutes (lasting; if it lasts > 30', is not stable angina)
Work (= 4 letters): usual work does not cause the pain; unusual work lowers the threshold for pain
Minutes – relief within 5 minutes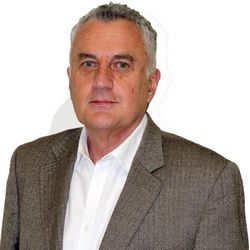 MBChB (O'Porto Univ.), Dip HIV Man (CMSA), DTM&H (Wits), DipPEC (CMSA), Dip Internal Medicine
(CMSA), M. Med. Clinical Pharm [Cum Laude] (Univ. Pretoria), FCP (CMSA). Hard worker, Reliable, Team player, Family man.