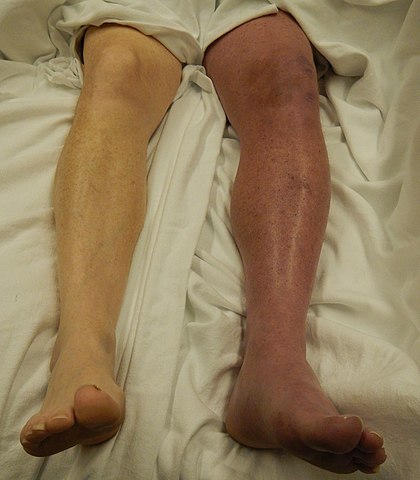 A: Alternate veins i.e. Superficial collateral veins (+1)
B: Bedridden for >/= 3 days in last 1 month OR Big surgery in last 3 months (+1)
C: Cancer – ongoing treatment or within 6 months (+1)
D: DVT
Unlikely: -2
Previous documented history: +1
Deep venous localized tenderness: +1
E: Edema
Entire leg swollen: +1
>3 cm larger calf than uninvolved side (10 cm below tibial tuberosity): +1
Pitting edema in symptomatic leg: +1
F: Fixity – Paralysis, Paresis or Plaster immobilization (+1)
Note the 3 sets of 3:
1. Bedridden for atleast 3 days in 1 month
2. Major surgery in last 3 months
3. More than 3 cm calf enlargement
Interpretation:
High probability if score >/= 3
Moderate probability if score 1-2
Low probability if score 0
Wells PS, Anderson DR, Bormanis J, et al. Value of assessment of pretrest probability of deep-vein thrombosis in clinical management. Lancet. 1997;350:1795-1798.

He is the section editor of Orthopedics in Epomedicine. He searches for and share simpler ways to make complicated medical topics simple. He also loves writing poetry, listening and playing music.