Propionyl CoA is a common intermediate in catabolism of essential amino acids and odd chain fatty acids. It is also called VOMIT pathway which stands for:
Valine
Odd chain fatty acids
Methionine
Isoleucine
Threonine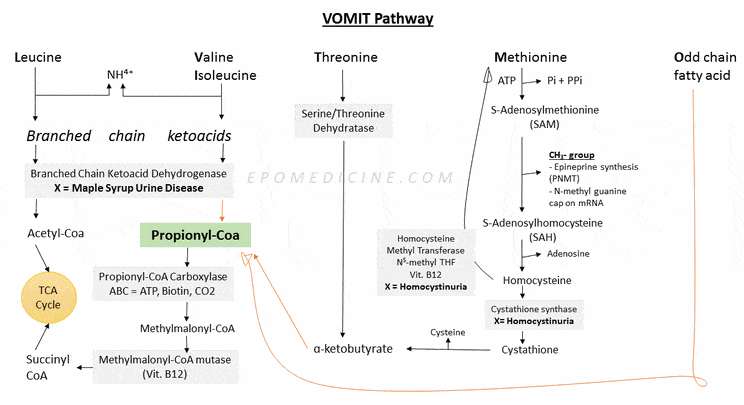 They enter TCA cycle – using PMS pathway:
Propionyl CoA
Methylmalonyl CoA
Succinyl CoA
Defects in VOMIT Pathway
Defect in Branched Chain Ketoacid Dehydrogenase (BCKD) – Maple Syrup Urine Disease (MSUD)
Defect in enzyme Branched Chain Ketoacid Dehydrogenase:
Enzyme similar to pyruvate dehydrogenase and alpha-ketoglutarate dehydrogenase – requires thiamine, lipoic acid, CoA, FAD, NAD+
Defect in BCKD leads to elevation of plasma concentrations of the branched-chain amino acids and corresponding keto acids
Present in Inner mitochondrial membrane
Features:
Infantile onset – normal for first week; progressive symptoms
Leucine accumulation – Neurological symptoms

Impair regulation of cell volume – resulting in decreased serum sodium concentration and increased intracellular water, leading to cerebral edema.
Another mechanism of neurotoxicity may be increased production of glutamate, glutamine, and gamma-aminobutyric acid (GABA) caused by the rapid transport of leucine across the blood-brain barrier.
Features: Mental retardation, Abnormal muscle tone

Isoleucine accumulation – Maple syrup odor of urine
Caramel colored urine
Ketosis, Coma and Death
Treatment: Restriction of dietary valine, leucine and isoleucine
Defect in Propionyl-CoA Carboxylase and Methylmalonyl-CoA Mutase
Inability to handle all 5 components of VOMIT
Propionyl-CoA carboxylase requires Biotin (Vit.B7) and Methylmalonyl-CoA Mutase requires Cobalamin (Vit. B12)
Pathophysiology:
Accumulated organic acids inhibit gluconeogenesis: hypoglycemia
Fatty acids are transported into mitochondria as carnitine conjugates where they are b-oxidized to ketones: ketosis.
Organic acid inhibits the urea cycle: hyperammonemia
Organic acid inhibits glycine degradation: hyperglycinemia
Organic acid inhibits hematopoeisis: neutropenia
Features: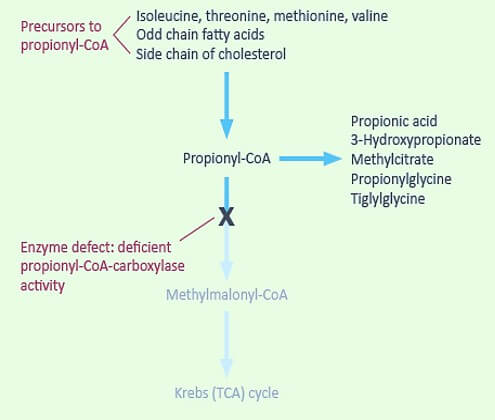 Ketoacidosis – due to failure to metabolize ketoacids produced from 4 amino acids
Propionyl-CoA carboxylase deficiency (Propionic acidemia): Accumulation of –

Propionic acid
Methyl citrate
Hydroxypropionic acid

Methylmalonyl-CoA mutase deficiency: Accumulation of-

Methylmalnate leading to Methylmalonic aciduria
Treatment: Diet low in valine, methionine, isoleucine and threonine
Homocystinemia/Homocystinuria
Causes:
Cystathione synthase deficiency (requires vitamin B6)
Decreased affinity of cystathione synthase for Pyridoxal Phosphate (B6)
Homocysteine methyl transferase deficiency (requires vitamin B12)
Deficiency of Folate, Vitamin B6 or B12
Defect:
Inability to re-methylate homocysteine to methionine (Vit B12, folate and homocysteine methyl transferase deficiency)
Inability to make cystathione to go into propionic acid pathway (Cystathione synthase and Vit. B6 deficiency)
Pathophysiology:
Homocysteines have "-SH" groups which are reducing agents.
Atherosclerosis: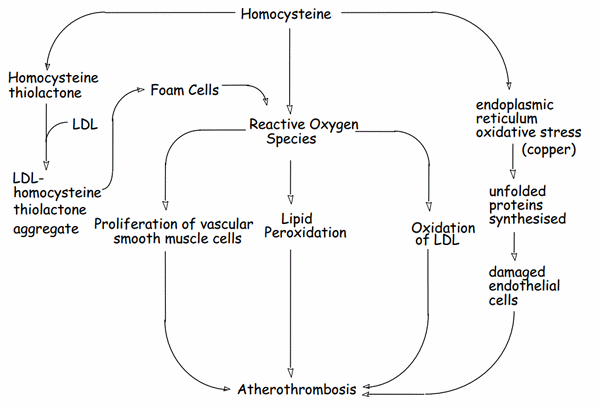 Marfan-like syndrome:
Fibrillin-1 contains ∼13% cysteine residues and can be modified by homocysteine.
Presentation:
DVT, Stroke, Myocardial infarction
Marfan-like: Mental retardation, Lens dislocation (downward as opposed to Marfan's syndrome in which dislocation is outward and upward), tall habitus with long extremities