All Local anesthetics contain suffix "-caine". Local Anesthetics (LA) can be classified as: Esters and Amides.
Esters vs Amides
A mnemonic device is that the names of amides contain 2 "i"s compared with only 1 "i" seen in esters.
Remember: One-eyed ester or Amide word has an "i" in it and hence an extra "i".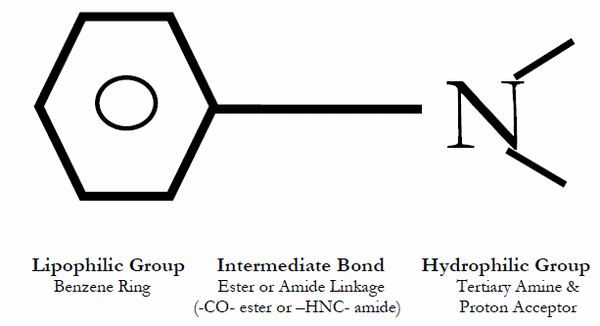 Amides – Contains 2 "i"
Properties:
Longer acting than esters
Metabolized by liver enzymes
Excreted in urine
Medicines:
Lignocaine
Lidocaine (Xylocaine)
Prilocaine
Mepivacaine
Bupivacaine (Marcaine/Sensoricaine)
Etidocaine
Ropivacaine
Dibucaine
Articaine
Trimecaine
Dexivacaine
Butanilacaine
Exceptions:

Amides with only single "i" are –

Oxetacaine
Tolycaine
Pyrrocaine
Rodocaine

Amide without suffix "caine" – Diperodon
Esters – Contains single "i"
Properties:
Short acting
Metabolized in plasma and tissue fluids
Excreted in urine
More propensity for allergic reactions
Medicines:
Amethocaine
Benzocaine
Chlorprocaine
Procaine (Novocaine)
Cocaine
Hexylcaine
Proparacaine
Tetracaine
Exceptions:

Ester with double "i" –

Primacaine
Piperocaine
Dimethocaine

Ester without suffix "-caine" –

Butamben
Butethamine
Naepaine
Rate of systemic absorption of Local Anesthetics
Mnemonic: In descending order – BICEPS
1. Blood (Intravenous)
2. Bronchial (Tracheal)
3. Intercostal
4. Caudal
5. paraCervical
6. Epidural
7. Plexus (Brachial plexus)
8. Sacral
9. Subcutaenous

He is the section editor of Orthopedics in Epomedicine. He searches for and share simpler ways to make complicated medical topics simple. He also loves writing poetry, listening and playing music.