Capture or Tethering
Increased vascular permeability and vasodilation are mediated by inflammatory mediators like histamine released by inflammatory cells in response to PAMPs expressed by pathogens.
Hemoconcentration (owing to increased vascular permeability) and decreased velocity of blood flow (owing to vasodilation) leads to peripheral pooling of the leukocytes (i.e. towards the endothelium) – process called as margination.
Following margination, capture occurs and this process is mediated by interaction between P-selectin on endothelium and PSGL-1 (P-Selectin Glycoprotein Ligand -1) on leukocytes
Rolling
Rolling occurs below the critical velocity (velocity separating freely flowing cells like RBCs and rolling leukocytes). It is mediated by selectin-addressins interaction.
Selectins
P-selectins are expressed on the endothelial surface.

Remember P-selectins are found on Platelets and webel-Pallade bodies present on human endothelium.
P-selectins are the largest and most important of all selectins.

L-selectins are expressed on Leukocytes

L-selectin is more efficient than P-selectin in mediating rolling
Smallest selectin (Remember: L for Little)

E-selectins on activated endothelium

Responsible for slow rolling and initiation of of firm adhesion
Addressins (Selectin Ligands)
P-selectin: PSGL-1 (expressed on blood cells and contains Sialyl Lewis-X)
L-selectin: GlyCAM-1 (Glycosylation Dependent Cell Adhesion Molecular), MAdCAM-1 (Mucosal Addressin Cell Adhesion Molecule) and CD34
E-selectin: Not yet known
Activation by Chemoattractants
Activators
Activation
Confirmational change of leukocyte to high affinity states by activation of integrins
Arrest and Adhesion
Tight binding of phagocytes to the endothelial cell.
Integrins – IgCAMs (Immunoglobulin superfamily Cellular Adhesion Molecules) mediated.
Integrins
Contains large α and small β subunits
Contain binding sites for divalent cations necessary for adhesive functions (Mg, Ca)
β2 integrins: LFA-1 (Lymphocyte Function Associated), CD18
β1 integrins: VLA-4 (Very Late Antigen)
Immunoglobulins
LFA-1: ICAM (Intercellular Adhesion Molecule) or CD 54
VLA-4: VCAM-1 (Vascular Cell Adhesion Moecule)
Diapedesis or Transmigration
The phagocytes extends pseudopodia through the vessel wall and extravasates into the tissues.
Mediated by: PECAM-1 in between cells and other adhesion molecules
Clinical Relevance – Leukocyte Adhesion Deficiency (LAD)
These are autosomal recessive diseases.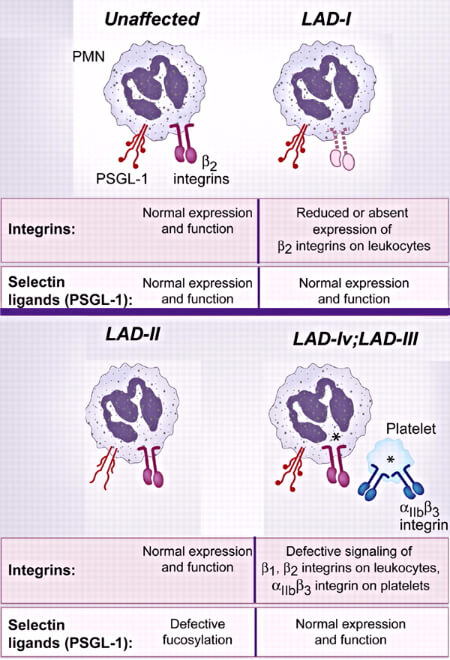 LAD I (Adhesion defect)
Failure to express CD 18, which composes common β2 subunit of LFA-1 family (β2 integrins) – interaction with ICAM and VCAM on endothelium is impaired.
First indication of defect: Omphalitis
Recurrent, chronic bacterial infections
Abnormally high number of granulocytes in circulation (margination defect)
Diagnosed by evaluating expression (or lack) of CD 18 by flow cytometry.
Defective granulocyte migration to infection site – absence of abscess or pus.
History of delayed separation of umbilical cord stump
LAD II (Rolling defect)
Defective fucosylation of PSGL-1 (selectin ligand) – impaired interaction with endothelial E- and P- selectins.
Extremely rare; seen in people with Bombay blood group phenotype
Recurrent bacterial infections with psychomotor and mental retardation
Responds to oral fucose
LAD III (LAD-I + Glanzmann thrombasthenia)
Due to FERMT3 mutation
Defective signalling of β1, β2 integrins on leukocytes, αIIβ3 integrin on platelets
Usually the first signs occur in infancy or early childhood.
Patients present LAD-I life-threatening infections and a Glanzmann thrombasthenia-like bleeding disorder.