Hepatitis B surface antigen (HBsAg)
Appears during incubation period (1-6 months), 2-7 weeks prior to symptoms.
Peaks when the patient is most ill.
Becomes undetectable in 3-6 months.
Indicates infection – recent or chronic.
Hepatitis B surface antibody (anti-HBs or HBsAb)
Arises once the acute disease has resolved.
Sometimes, not detectable unless until weeks or months after HBsAg has disappeared. This gap is called "window" period.
Indicates, immunity (by vaccination or infection).
Hepatitis B core antibody (anti-HBc or HBcAb)
Anti-HBc IgM and elevated serum transaminases also appear shortly before the symptom onset.
Over the next few months, anti-HBc IgM is replaced with an IgG component.
IgM = Recent (Acute) infection
IgG = Chronic infection
Hepatitis B e-antigen (HBeAg)
Shortly after HBsAg appears, HBeAg and HBV DNA can be detected in the serum and are markers of the acute viral replication.
Predictor of infectivity.
Hepatitis B e-antibody (anti-HBe or HBeAb)
Anti-HBe appears shortly after HBeAg vanishes and indicates subsiding viral activity.
Predictor of low infectivity.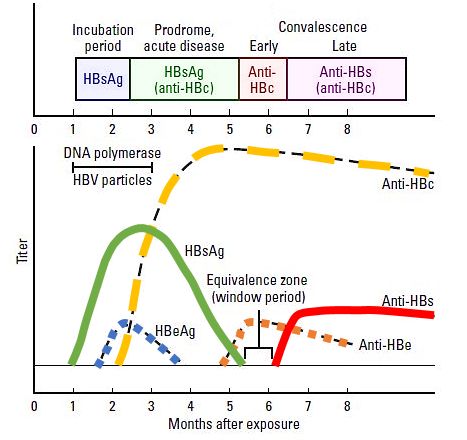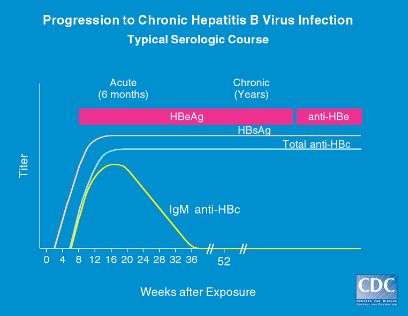 | | | | | | |
| --- | --- | --- | --- | --- | --- |
|   | HBsAg | Anti-HBs | Anti-HBc | HBeAg | Anti-HBe |
| Never infected (susceptible) | – | – | – | – | – |
| Incubation period | + (1st to appear) | – | IgM (shortly before symptom onset) | + | – |
| Prodrome, Acute disease | + | – | IgM | + | +/- |
| Window period | – | – | IgM | +/- | +/- |
| Convalescence (Recovery) | – | + | IgG | – | +/- |
| Chronic active hepatitis B | + | – | IgG | + | – |
| Chronic non-active hepatitis B | + | – | IgG | – | + |
| Immune due to Vaccination | – | + | – | – | – |
| Immune due to Natural infection | – | + | IgG | – | +/- |
| False positive or infection in remote past | – | – | IgG | – | – |