Definition
Cobb's angle >10°
Diagnosis of exclusion: Congenital scoliosis and Neuromuscular scoliosis ruled out
Types:

Early onset (<10 years):

Infantile: 0-3 years
Juvenile: 4-10 years

Late onset (>10 years)

Adolescent: 10-18 years
Adult: >18 years
Indications for MRI in general
Mnemonic: Left JAPAN
Left thoracic curves
Juvenile onset (<10 years)
Apical thoracic hypokyphosis
Painful and Progressive curves
Anomalies (Congenital abnormalities)
Neurological signs or symptoms
Management
Cobb's angle (Curve magnitude)
Risser 0/Premenarchal/
Before TRC closure/
PHV (Olecranon closure)
Risser 1-2
Risser 3-5
<25 degrees
Observation (every 3-4 months)
Observation (every 4-6 months)
Observation (longer interval e.g., every 6 months)
Orthosis if:
1.

Infantile scoliosis:

RVAD >20°, Rib phase 2, 2 curves (double curves)
2.

Documented progression in curves >20°:

≥5° in 2 consecutive visits or ≥10° in single visit
Orthosis if: Documented progression
25-45 degrees
Orthosis
Orthosis (begin at 30°)
Observation (yearly standing PA radiographs for 2-3 years after skeletal maturity, then every 5 years)
>45 degrees
Operation
Operation
Operation (when curve >50°)
PHV = Peak Height Velocity (curve obtained by charting standing height measurements at 6 months interval); TRC = Triradiate cartilage
Risser sign and Growth
A simple mnemonic can be used:
Risser 1 to 5 lasts about 2 years
At Risser 1, there is further 4 cm remaining of increase in sitting height
At Risser 2, there is 3 cm
At Risser 3, there is 2 cm
At Risser 4, there is 1 cm
Mnemonic: Risser Stage + Remaining increase in sitting height (in cm) = 5
Reference: Spinal Anatomy – Modern Concepts edited by Jean Marc Vital, Derek Thomas Cawley
Orthosis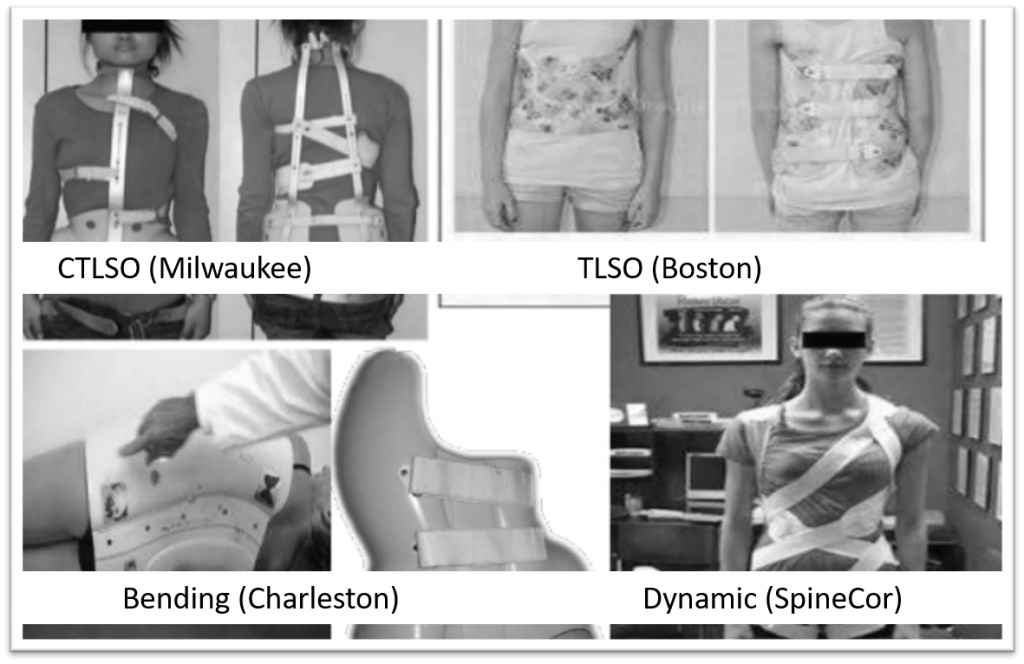 Types:
Apex at T6 and above:

CTLSO (Milwaukee brace)

Apex at T7 and below:

TLSO (Boston underarm brace)

Infantile scoliosis:

Elongation-derotation-flexion (EDF) or Mehta casts under GA (changed every 2-4 months; until deformity resolves or until child is big enough to manage in brace)

Bending brace:

Charleston brace (night-time bracing in maximal side-bending correction; reserved for single lumbar or thoracolumbar curves <35°)

Flexible brace:

Spine-Cor brace
Bracing is ineffective in: Thoracic hypokyphosis or lordosis
Protocol: Full-time bracing (23 hr/day) is more effective than Part-time bracing (16 hr/day or 8 hr/day); effectiveness is dose-dependent
Mechanism: Doesn't correct scoliosis but prevents progression
In-brace radiograph after 2-4 weeks of application to verify amount of correction achieved:
Boston brace:

minimum 40-50% correction must be achieved

Charleston brace:

about 90% for flexible curves and 70% for rigid curves
Continue bracing if curve progression controlled:
Girls:

Upto 18-24 months post-menarchal and Risser 4 and Height growth stops

Boys:

Upto Risser 5
Operation
Indications:
Curve magnitude as above in table
Failure of orthosis: to control pain and/or progression of curve
Thoracic lordosis or hypokyphosis (orthosis could exacerbate the rib deformity)
Significant cosmetic deformity
Modalities:
<8-10 years:

Magnetic growing rods
Dual growing rods (lengthened via open procedure every 6 months)
VEPTR (Vertebral Expanding Titanium Prosthetic Rib): corrects spine by acting on ribs
Shilla procedure: Fusion of apical vertebra via locked pedicle screw + Non-locked pedicle screws at the end of curve (can slide along the rods)
9-10 years:

Combined anterior and posterior fusion to prevent risk of crankshaft phenomenon (preferrable over Growing rods)
>10 years:

Posterior instrumentation and fusion preferred
Anterior instrumentation and fusion:

Alone: Single TL/L fusion (Lenke 5), Single thoracic fusion (if hypokyphosis and if fusion levels can be saved)
With posterior instrumentation and fusion: Open triradiate cartilage (to prevent crankshaft phenomenon), Large or stiff curves >75° (to improve flexibility)

Fusion levels:

Must include structural curves
Must include non-structural curves that are:

>45°
Associated with significant rotation and translation

Upper Instrumented Vertebra (UIV) to T2 (higher) when:

Left shoulder is elevated in common right thoracic curve (fusion of MT curve only leads to further elevation of left shoulder and is suitable in neutral or elevated right shoulder)
T1 tilt >5°
Structural proximal thoracic curve

Lower Instrumented Vertebra (LIV):

Lenke 1 and 2:

A modifier: Vertebra touched by CSVL unless L4 is titled to right
B modifier: Stable vertebra (most proximal lower thoracic or lumbar vertebra most closely bisected by CSVL)

Lenke 3-6: Distal end vertebra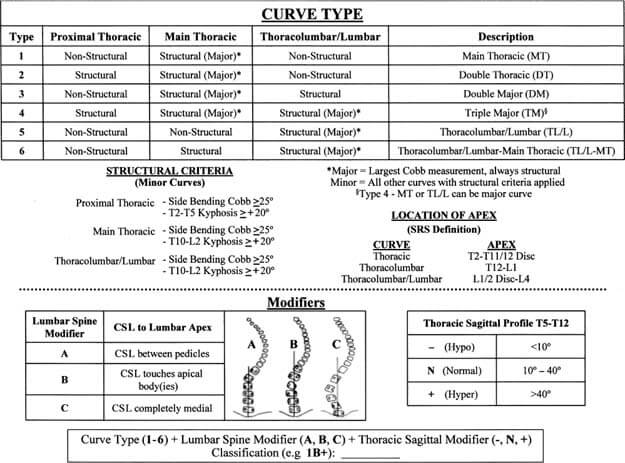 | | | | |
| --- | --- | --- | --- |
| Lenke type | Description | Structural regions recommended for fusion | Approach |
| 1 | Main thoracic | MT | PSF or ASF |
| 2 | Double thoracic | PT, MT | PSF |
| 3 | Double major | MT-TL/L | PSF |
| 4 | Triple major | PT, MT, TL/L | PSF |
| 5 | Thoracolumbar/lumbar | TL/L | ASF or PSF |
| 6 | Thoracolumbar/lumbar, main thoracic | TL/L, MT | PSF |
References:
Rothman Simeone – The Spine
Tachdjian's Pediatric Orthopedics, 5th Edition
Paediatric Orthopaedics, A system of Decision making, 2nd edition
Miller's Review of Orthopedics, 8th edition
Kotwicki T, Chowanska J, Kinel E, Czaprowski D, Tomaszewski M, Janusz P. Optimal management of idiopathic scoliosis in adolescence. Adolesc Health Med Ther. 2013 Jul 23;4:59-73. doi: 10.2147/AHMT.S32088. PMID: 24600296; PMCID: PMC3912852.

He is the section editor of Orthopedics in Epomedicine. He searches for and share simpler ways to make complicated medical topics simple. He also loves writing poetry, listening and playing music.