Neutrophil Granules
Azurophilic (Primary) Granules
These are lysosomes that occur in all granulocytes, as well as in lymphocytes and monocytes.
In addition to expected lysosomal hydrolases, they also contain peroxidases (used to demonstrate azurophilic granules chemically).
Develop earlier than specific granules.
Stains blue/purple by Romanowsky stain.
Mnemonic: ABCDE MnOP
Acid hydrolase
BPI (Bactericidal Permeability Increasing) protein
Cathepsin G
Defensin
Elastase
Myeloperoxidase (MPO)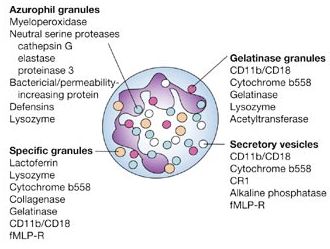 Specific (Secondary) Granules
Do not stain intensely with Romanowsky stain.
Smaller and more numerous than specific granules.
Mnemonic: COLA
Collagenase
Cathelicidin
Oxidase (NADPH oxidase)
Lactoferrin
Alkaline phosphatase
Common to both Azurophilic and Specific Granules
Lysozyme
Phospholipase A2 (PLP A2)
Tertiary Granules
Defect in Neutrophil Granules
1. Alpha granule defect:
Myeloperoxidase (MPO) deficiency:
Most common neutrophil defect.
Microbicidal activity of neutrophil is delayed but not absent (defective HOCl formation).
Acquired form is seen in AML.
Chediak-Higashi Syndrome (CHS):
Defect in LYST (lysosomal transport) protein, encoded by CHS1 gene at 1q42.
Abnormal giant alpha granules, impaired chemotaxis and phagolysosome formation leading to severe bacterial infections.
Giant granules in: melanocytes and hair (oculocutaneous albinism), nerve tissue (peripheral neuropathy).
2. Specific granule defect (SGD):
Misnomer
Defect of both primary and specific granules: Absent specific granules + Absent Lactoferrin and ALP (primary granules) but normal MPO.
3. NADPH oxidase deficiency: Chronic Granulomatous Disease (CGD)
Mostly X-linked recessive trait; 30% autosomal recessive
Infections due to catalse positive organisms (organisms that destroy their own hydrogen peroxide) – extensive inflammatory reactions, and lymph node suppuration is common despite administration of appropriate antibiotics.
Platelet Granules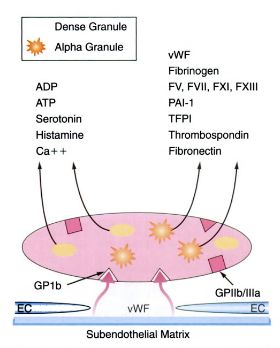 Alpha granules
Mnemonic: Alpha granules are bigger like Alpha males. These are bigger molecules like proteins and peptides. The granules can be remembered using mnemonic Platelet Function Test (PFT).
P-selectin
Platelet factor 4
Platelet Derived Growth Factor (PDGF) and othr growth factors
Fibronectin
Fibrinogen and other factors (factor V, VIII and vWF)
Transforming Growth Factor – beta (TGF-beta)
Delta (Dense) granules
Mnemonic: Delta granules are smaller and weakers like Delta males. These are smaller molecules. It can be remembered using mnemonic – CAN.
Cations (Ca++, Mg++)
Amines (Serotonin, Histamine)
Nucleotides (ADP, ATP, PPi)
Lysosomes
Defect in Platelet Granules
Alpha granule defect:
Gray platelet syndrome (Alpha storage pool defect) – characterized by thrombocytopenia and abnormal enlarged gray-blue platelets with a washed-out appearance due to deficeint alpha granules.
Quebec platelet disorder – an autosomal dominant trait caused by deficient platelet alpha granule factor V (due to increased expression of alpha granule urokinase-type plasminogen activator that generates plasmin and cleaves factor V) but normal plasma factor V.
Delta granule defect:
Delta storage pool defect – Normal number and normal appearing platelets in peripheral smear, absence of dense granules in electron microscopy and impaired second wave of platelet aggregation (prolonged bleeding time).
Hermansky-Pudlak syndrome and Chediak-Higasghi syndrome – Rare autosomal disorders that have in common platelet dense granule deficiency, albinism and lysosomal granule defects.