ATLS' 80/70/60 rule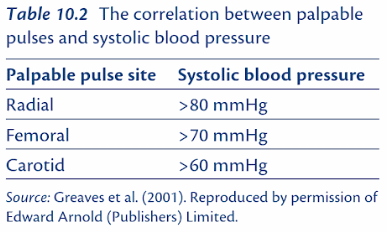 On the basis of location of pulse palpable, minimum systolic blood pressure can be predicted as follows:
Radial/Dorsalis pedis/Popliteal pulse: >80 mmHg
Femoral pulse: >70 mmHg
Carotid pulse: >60 mmHg
Overestimation of SBP by this rule
Pulse characteristics are an unreliable sign and "should be used only as a last resort." The 80/70/60 rule taught by the prehospital medicine and ATLS courses tend to overestimate the patient's blood pressure. Although the radial pulse always disappears before the femoral, which always disappears before the carotid, most patient's BP is lower than that predicted by these guidelines. But that, by itself, is useful information in a crisis. If you cannot feel your patient's radial pulse they are likely to be very hypotensive and ill.
Reference:
Wilderness Medicine E-Book: Expert Consult Premium Edition – By Paul S. Auerbach