A 12 year old female came with complaints of multiple joint pain for 10 days which started in the left knee and resolved within 3 days, then started on the bilateral ankles which also resolved in 3 to 4 days and started on the right knee. She currently complains of pain in right knee and toes. The pain was severe, disabling, she was unable to walk and was associated with redness and swelling. There was no diurnal variation of pain and there is no history of morning stiffness or locking of the joints. The joint pain and swelling healed without deformity.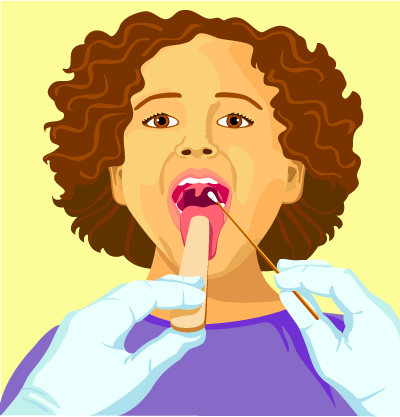 There was no history of:
sore throat, skin lesions (Predisposing streptococcal infection)
abnormal body movements, palpable nodules over the skin
fever (brucellosis, viral illness, leptospirosis)
palpitation, shortness of breath on lying, heaviness of chest or swelling of body (Carditis)
skin rash, photosensitivity, malar rash (SLE)

malaise, cough and cold (Toxic synovitis)

abdominal pain, palpable rash, reddish or frothy urine (Henoch Schonlein Purpra)
significant weight loss, headache, profuse sweating, progressive pallor, bony pain/tenderness (Malignancies and Vasculitis syndrome)
trauma (Traumatic arthralgias)
blurring of vision, redness of eyes, morning stiffness (Juvenile Idiopathic Arthritis or JIA)
jaundice, pallor, blood transfusion in the past (Hepatitis B and autoimmune hepatitis)
abdominal cramps, blood or mucus in stool, diarrhea, oral ulcers, genital ulcers (Reactive arthritis/Inflammatory Bowel disease)
No history of early fatiguability, swelling of the body, palpitation and shortness of breath in the past.
No history of similar episode in the past.
No significant family history.
On examination, the patient was lying down with flexed right knee. Besides fever and murmur, other findings were not significant. The grade 3 murmur was typical of mitral regurgitation (MR). The right knee was kept in flexion. There was peripatellar fullness and swelling of the knee – redness was absent and temperature was raised. There was limitation of joint movement.
Provisional diagnosis:
Acute Rheumatic Fever (ARF)
Points in favor of our diagnosis: Migratory polyarthritis with finding of valvular lesion (MR) with fever
Differential diagnoses:
Septic arthritis
SLE
Toxic synovitis
Juvenile Idiopathic Arthritis (JIA)
Infectious etiology (viral, brucellosis, leptospirosis)
Investigations:
CBC: leukocytosis with normal platelets and neutrophils
ESR: rasied
CRP: +ve
Blood culture: no growth
ASO titre: 400 (positive)
ECG: PR interval normal
Echocardiography: mild MR with trivial TR
We tried to fulfill the Jone's criteria which includes –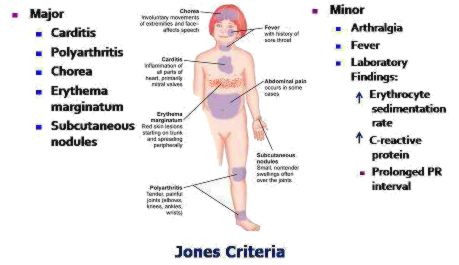 Revised Jone's criteria:
A firm diagnosis requires that two major or one major and two minor criteria are satisfied, in addition to evidence of recent streptococcal infection.
Our patient fulfilled 1 major (migratory polyarthritis) and 2 minor criteria (fever, ESR and CRP) with evidence of streptococcal infection (positive ASO titre). Hence, our final diagnosis was Acute Rheumatic Fever (ARF).
( See Sydenham Chorea or saint vitus dance video in another patient with ARF)
Management:
The patient was started on oral aspirin at high dose (100 mg/kg/day) and the joint pain subsided drastically within 1 day which was consistent with Rheumatic arthritis.
Benzathine penicillin was given and further prophylaxis was planned every 3 weekly. The patient was kept under bed rest and monitoring for carditis was planned.
Steroid is indicated if the patient develops carditis with cardiomegaly or congestive cardiac failure.