The risks of malpractice litigation are proving to be harmful to the US health system; the number of practitioners practicing defensive medicine is increasing. "Defensive medicine" is a practice where a doctor suggests clinical investigations or remedies that do not have to be the best choice for the patient. The main role of such an alternative test and treatment is to reduce malpractice lawsuits by the patients. This can work, because research indicates that doctors using this approach are less likely to get litigated. But as a result, maximum money and resources are spent on unnecessary things. If there was no legal aspect involved in every clinical decision taken, many doctors would not opt for investigatins and treatment modalies with little or no benefits to the patients.
Mishandling and abusing the medical professionals and destruction of hospital properties is on the rise these days. Looking at the changin scenario in the South Asian countries (mainly India and Nepal), it is a clear indication that the health systems of these nations are drifting towards the defensive medical art of the West. The rate in which the physician and other medical practitioners are pulled into "Medicolegal cases" necessarily or unnecessarily, it is certain that the health care expenses shall double for the patients and public and go on multiplying. Most of the western doctors have adopted 3 common practices:
1. Reducing Risk (Maximum Testing)
2. Stay away from the risk (Stay away from the treatment of high risk cases)
3. Increase in fees (In preparation to cover the costs related to medicolegal issues)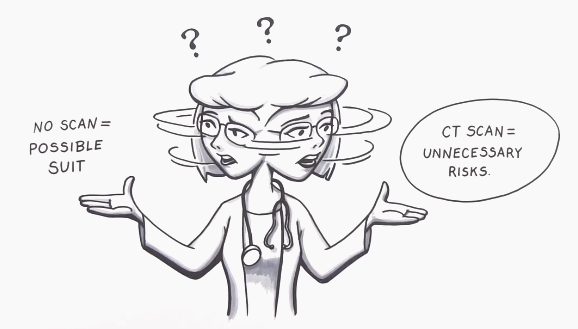 In 2010, Gallup and Jackson Healthcare concluded that private sector practitioners practiced defensive therapy 73% and 90% respectively, which is higher than 48% of government practitioners.
Arbin Joshi's research conducted at the 50-member Surgery Residents at the Patan Academy of Health Sciences showed that among the respondents –
1. 100% had expected the risk of being mishandles in his career.
2. 60% had responded that they would run investigations which may not be beneficial for the patients but will save them legally.
3. 80% had said that they woul purchase insurance policy if available.
4. 100% sought to refer seriously ill patients to public hospitals showing unavailability of resources at the private hospital.
5. 20% referred to exaggerating the risks involved in the treatment during the process of counselling.
So, who benefits from protective medicine practice?
Let us focus on various articles published –
DeKay and Asch have written that extensive use of diagnostic tests is the main strategy of defensive medicine, but unnecessary tests benefit some patients while most of them stay disadvantaged.
Using liability-effectiveness model, Pauker and Pauker have shown that – "When physicians try to protect themselves by practicing defensive medicine, some patients experience deficiency in expected health, but no patient will experience growth.
James L. Hecht, who is a member of a program that sends resident doctors for a 1 month training from US to Patan Hospital; He has mentioned that there are such tests that are cheaper than the American level, but it is very expensive for average Nepali people. The doctors working in Patan Hospital had revealed that they are not calling for the investigations there but would have requested the same if they were working in the United States. As per the report, the reason behind this was the trend of issuing medico-legal case was not much during that time.
It is written in the US history that "High-quality medical practitioners were probably well educated and well trained. They were commercially and financially successful, and naturally they were attractive targets for claiming malpractice. After the arrival of medical malpractice insurance at the end of the 19th century, all the doctors became potential targets. "
The doctors working in such working conditions are found to:
Have less self-confidence
Have inadequate skill development
Depend on rely completely on investigations
Spend less time on thinking and spend maximum time on protocols and paperworks
Resources
1. http://medchrome.com/patient/defensive-medicine-health-protocol-of-tomorrow/
2. http://jhvonline.com/how-defensive-medicine-compromises-doctorpatient-relationships-care-p21860-153.htm
3. Doctors' Errors and Mistakes of Medicine: Must Health Care Deteriorate? By Moshe Wolman, Ruth Manor
4. http://www.bsmph.com/Articles/The-History-and-Origins-of-Medical-Malpractice-Litigation.shtml
5. http://www.baltimoresun.com/news/opinion/oped/bs-ed-suing-doctors-20161226-story.html
6. jpahs.edu.np/index.php/JPAHS/article/download/40/46


He is the section editor of Orthopedics in Epomedicine. He searches for and share simpler ways to make complicated medical topics simple. He also loves writing poetry, listening and playing music.