Pre-requisites for Vac Dressing
Thorough debridement
Adequate hemostasis
Components of Vac Dressing
1. Pump for Negative Pressure:
A wall suction or a portable suction unit
A plastic bellows pump is also an option e.g. hemovac, romovac

Optimum pressure:

Acute traumatic wounds – negative pressure of 125 mm Hg
Chronic non healing venous ulcer – negative pressure of 50 mm Hg

Intermittent negative pressure (cycle of 5 min on and 2 min off phase) is recommended as it generates more blood flow during vacuum "off" phase
Pressure in VAC dressing gradually reduces over 2 days therefore, dressings should be changed after 48 hr
In a study, 3 closed suction drainage systems were studied – Davol Reliavac 400 Evacuator, Jackson-Pratt Closed Wound Suction Drainage System, and Snyder Hemovac 400. In all three systems, maximal negative pressures (-71 to -175 mm Hg) were generated with the reservoirs empty of fluid. Pressure generation by all drains decreased as the volume of fluid in the reservoir increased.
2. Dressing: Usually changed on 3rd day
a. Porous packing material (interface between vacuum source and wound bed):
Black (Polyurethane ether, lighter, hydrophobic with a pore size of 400–600 mm): for thoracic and abdominal cavity wounds
White (Polyvinyl alcohol, dense, hydrophilic with a pore size of 250 mm): for superficial surface wounds
Gauze dressings are also a cost-effective option
b. Occlusive cover:
Provides a protective cover over the wound cavity and gauze packing material and remains airtight for its entire dressing period
Should cover at least 3–5 cm of surrounding healthy tissue to ensure a watertight/airtight seal
3. Connection mechanism: Air tight connection between vacuum unit and dressing unit is important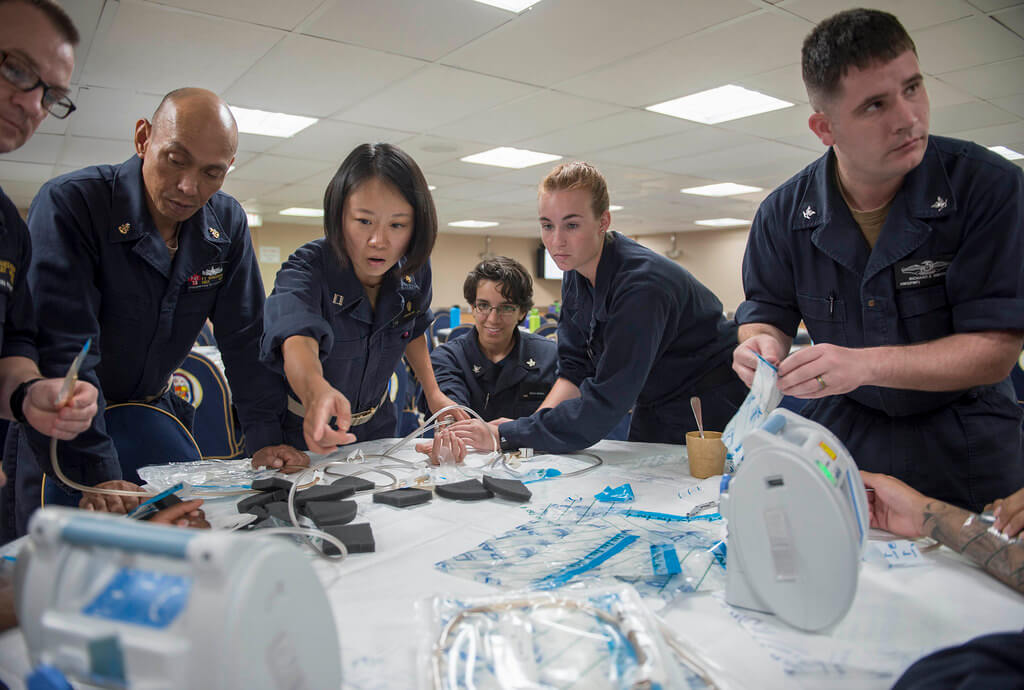 Mechanism of Action of Negative Pressure Wound Therapy
a. Macrostrain: Visible contraction which occurs when negative pressure is applied
Draws wound edges together
Provides direct and complete wound bed contact
Removes exudate
b. Microstrain: Micro-deformation at cellular level
Reduces edema
Promotes granulation tissue formation by facilitating cell migration and proliferation
Method 1
Wound is covered with one layer of paraffin gauze
A sterile polyvinyl-alcohol sponge, slightly smaller in diameter than the wound is then placed over the paraffin gauze
An evacuation tube is placed above the sponge, after making a few holes at the distal end with scissors
A second sponge layer then covers the tube, and the whole area is sealed with adhesive drape extending approximately 5 cm beyond the margins of the wound, thus creating an airtight seal
Proximal end of the tube is connected to a wall-suction container, and the system is then placed under negative pressure at 75–125 mmHg continuously for 1 to 3 days
Method 2
Method 3
A piece of pre-sterilized foam of about 1 cm thickness is cut to the size of the wound and is placed on it
A perforated drainage tube (e.g. Romovac suction drain tube) is put on it
Again a piece of foam is placed on the underlying foam and tube.
The whole foam with tube is covered with a sterile transparent dressing (Opsite)
The tube is connected to a common suction apparatus with pressure gradient.
Suction is applied with a negative pressure of 100 to 125 mmHg for 10 mins hourly for 12 consecutive hours. Rest of the time, this drainage tube is connected to the Romovac suction apparatus.
Method 4
Perforated end of the Romovac drainage tube is placed on the wound surface and its other end, placed 10 cm away from the wound margin and connected to the bellow
Sterilized foam is trimmed according to the size and geometry of the wound and placed on top as a cover
Opsite then coveres the wound and the adjoining healthy skin with an airtight seal
Romovac bellow is charged to obtain appropriate cyclical negative pressure
Patients can be taught how to charge the Romovac and their attendants can be advised to charge it every 5–6 hours. A mean pressure of −80 mmHg (range −60 to −120 mm Hg) can be obtained on full charging. The pressure was measured by a pressure-measuring device
In this method, dressing was changed every week, or earlier if there is a soakage/leakage
Method 5 (Low cost Aquavac NPWT)
Vaccum source: modified aquarium aerator pump

continuous negative pressure (-120 to -125 mm Hg) was applied

Modified dressing:

Barrier dressing: Vaseline gauze
Wound filler: Sterile surgical gauze
Occlusive drape: Food wrap or Saran wrap

Effluent canisters: Empty IV bottles
References:
Agarwal P, Kukrele R, Sharma D. Vacuum assisted closure (VAC)/negative pressure wound therapy (NPWT) for difficult wounds: A review. J Clin Orthop Trauma. 2019 Sep-Oct;10(5):845-848. doi: 10.1016/j.jcot.2019.06.015. Epub 2019 Jun 20. PMID: 31528055; PMCID: PMC6739293.
Zurovcik, Danielle R., Gita N. Mody, Robert Riviello, and Alex Slocum. "Simplified Negative Pressure Wound Therapy Device for Application in Low-Resource Settings." Journal of Orthopaedic
Trauma 29 (October): S33–S36. doi:10.1097/bot.0000000000000410.
Shalom A, Eran H, Westreich M, Friedman T. Our experience with a "homemade" vacuum-assisted closure system. Isr Med Assoc J. 2008 Aug-Sep;10(8-9):613-6. PMID: 18847164.
A. Anandi, Captain S. Nedunchezhian,R. Karthikeyan. A study of vacuum assisted closure in chronic non-healing diabetic ulcers. IAIM, 2020; 7(3): 47-52.
Cocjin, H. G. B., Jingco, J. K. P., Tumaneng, F. D. C., & Coruña, J. M. R. (2019). Wound-Healing Following Negative-Pressure Wound Therapy with Use of a Locally Developed AquaVac System as Compared with the Vacuum-Assisted Closure (VAC) System. The Journal of Bone and Joint Surgery, 101(22), 1990–1998. doi:10.2106/jbjs.19.00125

He is the section editor of Orthopedics in Epomedicine. He searches for and share simpler ways to make complicated medical topics simple. He also loves writing poetry, listening and playing music.