Donati's suture (commonly called as vertical mattress suture) has a far-far-near-near (F-F-N-N) configuration where the far-through stitches seize the subcutaneous tissue and the near-through stitches seize only the dermis.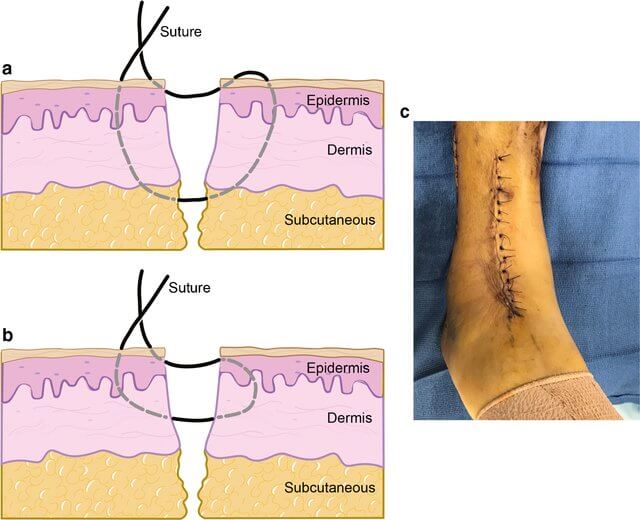 Allgower Donati Suture or Allgower modification of Donati's suture is a transition between subcuticular suture and Donati's or vertical mattress suture and comprises of:
Subcutaneous suture at one side
Intracutaneous suture (sunk) at one side
It leaves the microcirculation to the skin and the wound edge intact. Studies have found Allgower-Donati suture to possess the smallest effect on cutaneous blood flow compared with vertical mattress, horizontal mattress, and simple suturing techniques. These sutures pull the dermal matrix into opposition with the side of the wound, without skin kinking or folding.
References:

Dietz, U. A., Debus, E. S., Hamelmann, W., Czeczko, N. G., Zlegler, U. E., & Thiede, A. (2004). Suture Materials and Techniques. Surgery in Wounds, 154–170. doi:10.1007/978-3-642-59307-9_16

Starnoni M, De Santis G, Pinelli M. Dermal Matrix Fixation: A Good Adhesion to Wound Edges without Vascularization Impairment. Plast Reconstr Surg Glob Open. 2019 Jul 24;7(7):e2327. doi: 10.1097/GOX.0000000000002327. PMID: 31942354; PMCID: PMC6952155.