Synonyms: Hansen's disease, Kushta roga, Mezels
Definition: Leprosy is a chronic granulomatous disease, caused by Mycobacterium leprae which affects prinicpally the skin and  peripheral nerves. Other commonly affected sites are the cooler parts of the body like mucosa of upper respiratory tract, anterior chamber of eyes and testes. The cooler parts affected in skin are ear lobules and extremities.
Epidemiology:
1. Infectious agent: Mycobacterium leprae – Acid and Alcohol Fast (AFB), gram positive, obligate intracellular, non-cultivable bacilli which has been successfully inoculated and has multiplied in the mouse foot pad, thymectomized irradiated mice, mude mice and 9-banded armadillos. The organisms have high affinity for Schwann cells and the cells of reticuloendothelial system. It has high infectivity but low pathogenecity. It has a doubling time of 2 weeks.
2. Mode of transmission:
Droplet infection via nasal or respiratory mucosa (bacilli are able to survive 2-7 days outside the body)
Skin to skin transmission in contacts of heavily infected multibacillary patients
Some cases have been noted from eating infected armadillos
3. Reservoir: Humans are the only reservoir of proven significance
4. Incubation period: 9 months to 20 years (average 2-5 years for tuberculoid cases and 8-12 years for lepromatous cases)
5. Period of communicability: 1 month to 20-30 years but adequate treatment with clofazimine and dapsone renders the patient non-infectious in 3 months and with rifampicin in 3 days.
6. Susceptibility and resistance: Everyone is susceptible to infection, however children aged between 5-9 years are at the greatest risk. More than 95% of the adults are resistant to the infection. Subclinical infections occur more commonly in endemic areas, but clinical disease manifests in only a small fraction having specific impairment to Cell Mediated Immunity (CMI) to M. leprae.
7. Occurence and distribution:
Mainly in the tropical regions of the world with poor socio-economic condition
Lepromatous leprosy is more common in Asia and Tuberculoid type in Africa
As of 2010, foci of high endemicity remain in Angola, Brazil, Central African Republic (CAR), Congo, India, Madagascar, Mozambique, and Tanzania
Recently, leprosy has been eliminated in Nepal
Global prevalence is estimated to be 12 million
2 terms need definition when we discuss control strategies in leprosy:

Elimination of leprosy: Reduction in prevalence of leprosy to below 1/10,000 population, so that it is no longer a public health problem. 
Eradication of leprosy: Complete absence of transmission due to total disappearance of disease causing organism.
Etiopathogenesis:
Risk factors:
Poor living conditions in endemic region like crowding, insufficient diet, etc.
Immuno-suppressed states: Malnutrition, HIV, etc.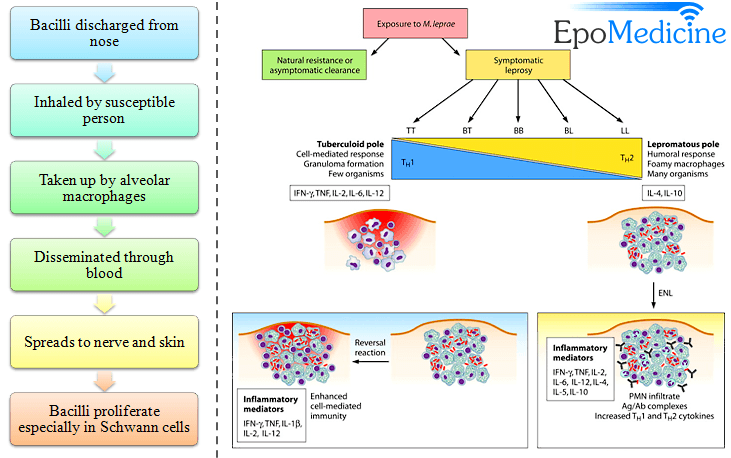 Tuberculoid type:

INF-Y:

mobilizes macrophages → stimulates phagolysosome formation
stimulates production of iNOS → generates free radicals → helps in killing the bacteria
stimulates macrophages → recruits monocytes → differentiates into epithelioid macrophages → granulomatous inflammation

Lepromatous type:

T-H2 response → IL-4, 5 and 10 → suppress macrophage activation in response to M.leprae
macrophages  also produce lower levels of IL-1.
antibodies may be formed against M.leprae antigens leading to immune complex formation: Erythema nodosum, Vasculitis and Glomerulonephritis 
Ridley-Jopling Classification and Clinical features: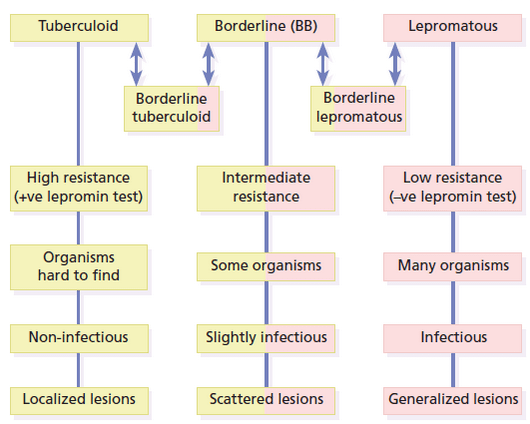 Leprosy is classified within two poles of the disease with transition between the clinical forms. Clinical, histopathological, and immunological criteria identify five forms of leprosy:
Tuberculoid polar leprosy (TT)
Borderline tuberculoid (BT)
Midborderline (BB)
Borderline lepromatous (BL)
Lepromatous polar leprosy (LL)
Clinical features of leprosy
---

Character
TT
BT
BB
BL
LL

---

Lesion no.
Usually 1 (<3)
Asymmetric
Few (<10)
Asymmetric
Several (10–30)
Asymmetric
Many (>30),
Asymmetric
Multiple,
Symmetric
Size
Variable,
usually large
Variable,
some large
Variable
Small, some
can be large
Small
Surface
Very dry
Scaly
Dry
Dull or
slightly shiny
Shiny
Shiny
Morphology
Macule/plaque
well defined
(π – cliff edge)
Plaques;
well defined;
satellite
lesions
Plaques;
with sloping edge
(inverted saucer)
Macules/
papules
nodules
plaques;
ill defined
Macules/
papules;
nodules/
plaques;
ill defined
(Λ – sloping)
Sensation
Absent
Markedly
diminished
Moderately
diminished
Slightly
diminished
Minimally
diminished
Nerve
thickening
Single trunk;
lesion related;
Few,
Asymmetric
Several,
Asymmetric
Almost
symmetric,
Glove &
stocking
anesthesia
Symmetric,
Glove &
stocking
anesthesia
Hair growth
Nil
Markedly
diminished
Moderately
diminished
Slightly
diminished
Not affected
initially
Reactions
Stable
Type I
Type I
Type I/II
Type II
Skin smear
–
– or 1+
1–3+
3–5+
Plenty, 6+
Lepromin
+
+/-
–
–
–
Granuloma
Well defined,
epitheloid cell
Epitheloid
cell
Ill defined,
macrophage,
lymphocytes
Ill defined,
foamy
macrophages,
lymphocytes
Grenz zone
–
+
++
++
++
AFB
–
–
+/-
+
++

---
Other types of leprsoy:
1. Indeterminate leprosy (I): It is a prelude to the determinate forms of leprosy. It is usually seen on face of children, in endemic areas. The lesion is always a macule; ill defined, atrophic, hypo/normo-esthetic, hypopigmented or slightly erythematous with or without nerve thickening.
2. Polyneuritic leprosy: These manifests with only neural signs without evidence of skin lesions. The affected nerves are tender and/or thickened. Localized involvement of the nerves may form nerve abscesses.
3. Histoid leprosy: It is regarded as a distinct variant of Lepromatous Leprosy (LL) characterized by presence of well demarcated, juicy cutaneous and subcutaneous nodules, present on normal looking skin primarily over back, face, buttocks, bony prominence. It may occur as a primary manifestation of disease or following inadequate dapsone therapy.
4. Lucio leprosy (LuLp): This variant is rare outside Mexico, Costa Rica and Gulf coast. It manifests as slowly progressive, diffuse, shiny infiltration of skin of the face and most of the body (lepra bonita, beautiful leprosy). There is loss of eyebrows, hoarseness of voice with myxedema like features. This form of disease is liable to develop Lucio phenomenon or reaction – regarded as a severe form of Erythema Nodosum Leprosum and characterized by destructive vasculitis leading to skin necrosis and ulcers.
Cardinal signs of Leprosy:
Hypopigmented/erythematous patch with loss of sensation of skin
Clinical evidence of nerve damage manifested by loss of function or enlargement and/or tenderness of nerves
Demonstration of M.leprae in skin smear
Atleast 1 sign is needed to diagnose leprosy. If the diagnosis is doubtful, individuals must be counselled and advised to follow up or referred to higher centers if signs persist or worsen in 6 months duration.
Note:

Order of loss of sensation: Temperature > Light touch > Pain > Deep pressure
1st cutaneosu lesion: A hypopigmented macule
Commonly palpable nerves are:

a. Supraorbital nerve (Above the eye brows)
b. Great auricular nerve (Winds around sternocleidomastoid)
c. Supraclavicular nerve (Across the clavicle)
d. Ulnar nerve (Olecranon fossa)
e. Superficial radial nerve (Lower end of radius at wrist)
f. Lateral popliteal nerve (Neck of fibula)
g. Superficial peroneal nerve (Front of ankle)
h. Posterior tibial nerve (Below medial malleolus)
Complications of Leprosy:
1) Nerve involvement:
Motor deficit (In order of frequency): Clawing of toes (Posterior tibial nerve), Claw hand (ulnar nerve), Ape hand (median nerve), Foot drop (Common peroneal nerve), Facial palsy (facial nerve)
Nerve abscess
2) Anesthetic deformities:
Anesthesia → Injury → Neglect → Infection → Loss/Damage of tissue → Healing with deformity
Trophic ulcers (Plantar ulceration)
Contractures
Mutilation of hand
3) Facial deformities:
Loss of eyebrows (Madarosis)
Megalobules of ear (Buddha ear)
Premature senility/Leonine facies (Lion like face)
Saddle nose deformity
4) Eye problems:
Direct invasion: conjunctivitis, scleritis, choroidal nodule
Immune complex deposition: Acute iridocyclitis
Facial nerve damage: Lagophthalmos
Trigeminal nerve damage: Loss of corneal sensation leading to corneal ulcer
5) Testicular dysfunction: Gynecomastia, impotence, infertility
6) Amyloidosis: Hepatic and renal problems
7) Social stigma