Morrey and Peterson's Criteria
Definite osteomyelitis: the pathogen is isolated from bone or adjacent soft tissue as there is histologic evidence of osteomyelitis.

Probable osteomyelitis: a blood culture is positive in setting of clinical and radiological features of osteomyelitis.

Likely osteomyelitis: typical clinical finding and definite radiographic evidence of osteomyelitis are present and response to antibiotic therapy.
Peltola and Vahvanen's Criteria for Acute Osteomyelitis
Pus on aspiration
Positive bacterial culture from bone or blood
Presence of classic signs and symptoms of acute osteomyelitis
Radiographic changes typical of osteomyelitis
Two of the listed findings must be present for establishment of the diagnosis.
Waldvogel Classification of Osteomyelitis
It is a simple and practical system based on 3 factors (duration, mechanism and vascular status):
a. Duration:
Acute: <2 weeks
Subacute: 2-6 weeks
Chronic:

>6 weeks
Persistent or relapsed infection
Infection associated with prosthetic devices
Histologic evidence of dead or necrotic cortical bone
b. Mechanism:
Hematogenous
Contiguous source

No generalized vascular disease
Generalized vascular disease
Gledhill and Robert Classification of Subacute Osteomyelitis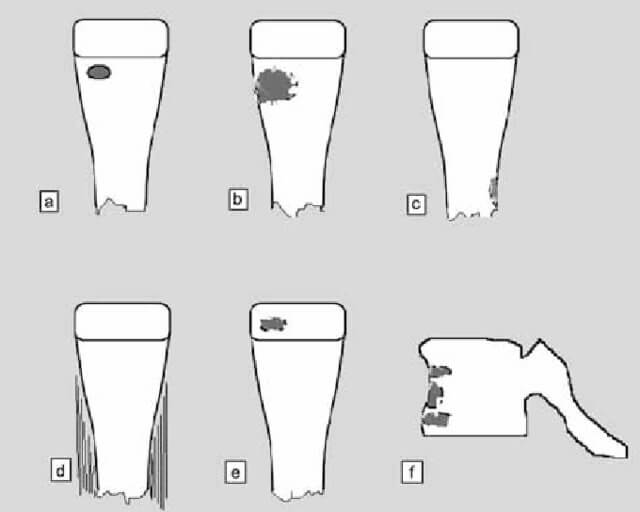 Type
Gledhill Classification
Robert modification of Gledhill Classification
Differential diagnosis
I
Solitary localized zone of radiolucency surrounded
by reactive new bone formation
Ia—Punched-out radiolucency
Ib—Punched-out radiolucent lesion with sclerotic margin
Ia – Eosiniophilic granuloma

Ib – Brodie's abscess
II
Metaphyseal radiolucencies with cortical erosion
—
Osteosarcoma
III
Cortical hyperostosis in diaphysis; no onion skin reaction
Localized cortical periosteal reaction
Osteoid osteoma
IV
Subperiosteal new bone and onion skin layering
Onion skin periosteal reaction
Ewing's sarcoma
V
—
Central radiolucency in epiphysis
Chondroblastoma
VI
—
Destructive process involving vertebral body
Eosinophilic granuloma
Tuberculous spondylitis
Cierny and Mader Staging for Chronic Osteomyelitis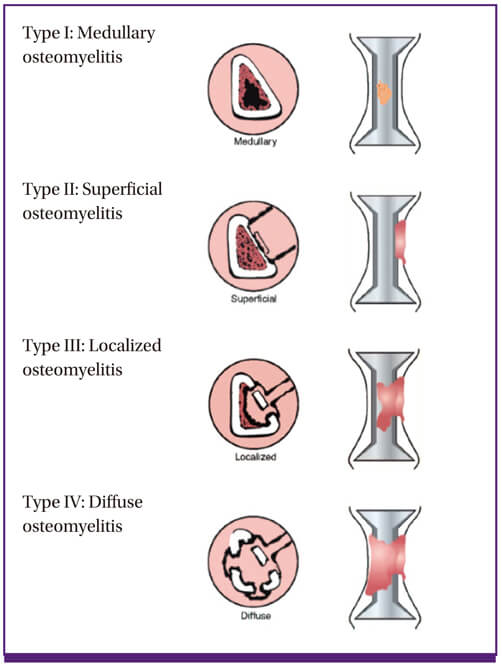 Classification
Description
Examples
Stage 1
Medullary osteomyeltitis: infection confined to the intramedullary bone surfaces
Infected intramedullary rod
Hematogenous osteomyelitis
Stage 2
Superficial osteomyelitis: restricted to outer cortex
Diabetic foot ulcer with infection extending to bone
Stage 3
Localized osteomyelitis: full-thickness, cortical sequestration without instability
Progression from stage I or II
Stage 4
Diffuse osteomyelitis: through-and-through process with instability requiring intercalary reconstruction of bone
Progression from stage I, II or III
A Host
Normal physiological, metabolic, and immunologic states
B Host
Local compromise, systemic compromise, or both

Systemic

– Diabetes, malnutrition, renal failure, hepatic failure, maliganancy, extremes of age, immune disease



Local

– Smoking, chronic lymphedema, major or small vessel compromise, venous stasis, arthritis, large scars, neuropathy
C Host
Morbidity of treatment is worse than disease
Patient who is not a surgical candidate or who cannot tolerate long-term antibiotics
Nade's Principles of Treatment of Acute Hematogenous Osteomyelitis
Appropriate antibiotic will be effective before pus formation
Antibiotics will not sterilize acascular tissues or abscesses and such area require surgical removal
If such removal is effective, antibiotics should prevent their reformation therefore, primary closure should be safe
Surgery should not damage already ischemic bone and soft tissue
Antibiotics should be continued after surgery
Nade's Indications for Surgery in Acute Osteomyelitis
Abscess formation
Severely ill and moribun child with features of acute osteomyelitis
Failure to respond to antibiotics for >48 hours
References:

Peltola H, Vahvanen V. A comparative study of osteomyelitis and purulent arthritis with special reference to aetiology and recovery. Infection 1984;12(2):75–9.

Waldvogel FA, Medoff G, Swartz MN. Osteomyelitis: a review of clinical features, therapeutic considerations and unusual aspects (first of three parts). N Engl J Med 1970;282:198–206.

Cierny G, Mader JT, Pennick JJ. A clinical staging system for adult osteomyelitis. Contemp Orthop 1985; 10:17–37.

Osteomyelitis of the Foot and Ankle: Medical and Surgical Management edited by Troy J. Boffeli