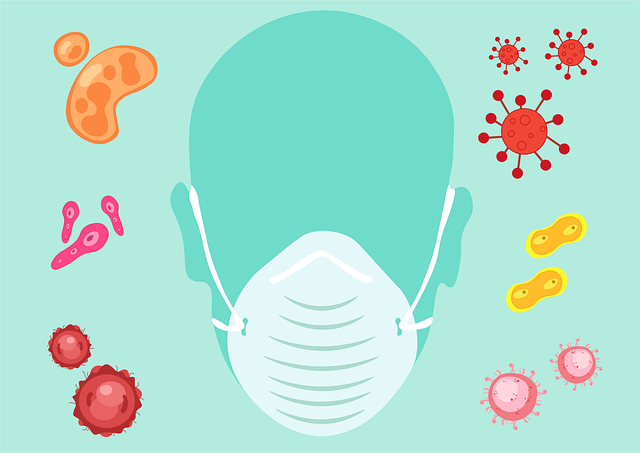 With the ongoing pandemic of COVID-19, world is facing an acute shortage of surgical and respirator masks. And along with this "face mask movement", globally "face mask making movement" has also started. Fabric materials may provide only minimal levels of respiratory protection against virus-size submicron aerosol particles (e.g. droplet nuclei) owing to marginal filtration performance which is aggravated by face seal leakage.
Davies et.al. 1Davies, A., Thompson, K.-A., Giri, K., Kafatos, G., Walker, J., & Bennett, A. (2013). Testing the Efficacy of Homemade Masks: Would They Protect in an Influenza Pandemic? Disaster Medicine and Public Health Preparedness, 7(04), 413–418. doi:10.1017/dmp.2013.43 had concluded that an improvised face mask should be taken as the final alternative during inavailability of commercial facemasks (it would be better than no protection).
Rengasamy et.al. 2Samy Rengasamy, Benjamin Eimer, Ronald E. Shaffer, Simple Respiratory Protection—Evaluation of the Filtration Performance of Cloth Masks and Common Fabric Materials Against 20–1000 nm Size Particles, The Annals of Occupational Hygiene, Volume 54, Issue 7, October 2010, Pages 789–798, https://doi.org/10.1093/annhyg/meq044 had concluded that common fabric materials and cloth masks showed a wide variation in penetration values for polydisperse (40–90%) as well as monodisperse aerosol particles in the 20–1000 nm range (40–97%) at 5.5 cm s−1 face velocity which was much higher thant for the control N95 respirator mask.
---
An experimental study 3van der Sande M, Teunis P, Sabel R. Professional and home-made face masks reduce exposure to respiratory infections among the general population. PLoS One. 2008 Jul 9;3(7):e2618. doi: 10.1371/journal.pone.0002618. PMID: 18612429; PMCID: PMC2440799. revealed that any type of general mask use is likely to decrease viral exposure and infection risk on a population level, in spite of imperfect fit and imperfect adherence.
Department of Biomedical Engineering, Texas A&M University produced an instruction for DIY N95 alternative mask using:
5 inches malleable wire (60 degree curve point) for nose-piece
9″ X 6″ rectangular HVAC (air conditioner) filter – layers as per MERV rating:

MERV 13 – 4
MERV 14, 15 – 2
MERV 16 – 1

9″ X 6″ and 9″ X 8″ rectangular sheer fabric to cover HVAC filter
Staples
13″ long closed loop elastic or two 36″ yarn or twine static bands for straps
Instructions: Designing N95 mask alternative from HVAC filter.
---
University of Pittsburgh4Dato VM, Hostler D, Hahn ME. Simple respiratory mask. Emerg Infect Dis. 2006 Jun;12(6):1033-4. doi: 10.3201/eid1206.051468. PMID: 16752475; PMCID: PMC3373043. proposed that a simple, locally made, washable hand fashioned mask may be a solution if commercial masks are not available. They created a prototype mask using following steps and equipments:
Hanes Heavyweight 100% preshrunk cotton T-shirt boiled for 10 minutes and air-dried to maximize shrinkage and sterilize the material in a manner available in developing countries.
A scissor, marker, and ruler were to cut out 1 outer layer (≈37 × 72 cm) and 8 inner layers (<18 cm2).
Mask was fitted and designed as shown in the figure:
This mask had offered substantial protection from the challenge aerosol and showed good fit with minimal leakage.
---
University of Florida (UF) designed 2 prototypes of mask using Halyard H600 medical fabric which has passed respirator fit test. They designed mask using:
Medical grade fabric (Halyard H600)
One piece of 16-gauge wire (not aluminum as it is too soft)
100% acrylic yarn, size medium #4 (used for ties)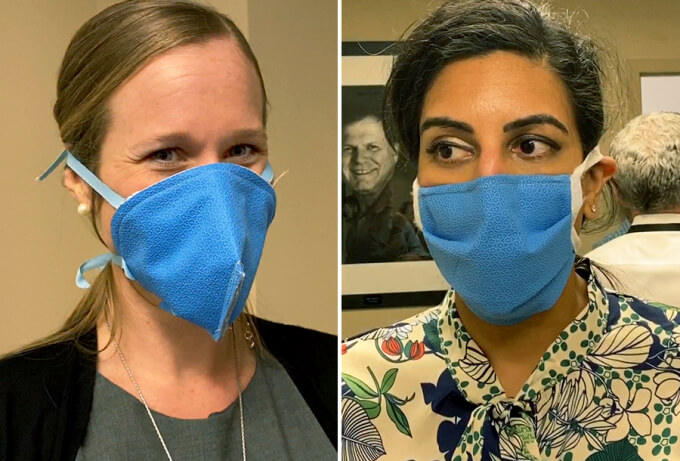 Instructions:

Prototype 1: https://anest.ufl.edu/files/2020/03/PROTOTYPE-1-TUTORIAL.pdf

Prototype 2: https://anest.ufl.edu/wordpress/files/2020/03/PROTOTYPE-2-TUTORIAL.pdf
For a simpler mask, Michael Garron Hospital (MGH) mask challenge 5https://drive.google.com/file/d/1MHyA5JAUCmUqvm1r_zEc6K3PwvI2tbqw/view promoted a simple 2-ply pleated mask design, the making of which would require:
Polyester for outer layer (can be substituted with 100% cotton) – rectangular piece ~23 X 16 cm
100% cotton (T-shirts or tea towels) for inner layer – rectangular piece ~21 X 14 cm (depending on age and gender)