TERMINOLOGIES
1. Seizure: Abnormal or excessive neuronal discharge causing a transient disturbance of cerebral function.
2. Epilepsy: A condition characterized by recurrent (≥2) unprovoked seizures.
3. Status Epilepticus (SE):
a. Conventional definition: 2 fits occur without recovery of consciousness in between or a single fit lasts longer than 30 minutes with or without loss of consciousness. The rationale behind the time limit of 30 minutes is that – irreversible neuronal injury may occur after 30 minutes of seizure activity.
b. New ILAE task force definition:
A condition resulting either from:

Failure of the mechanisms responsible for seizure termination or
From the initiation of mechanisms

Leading to abnormally prolonged seizures (after time point t1) i.e. demarcation of time when treatment should be initiated

Tonic-clonic SE: 5 min
Focal SE with impaired consciousness: 10 min
Absence SE: 10-15 min

And can have long-term consequences (after time point t

2

) – including neuronal death, neuronal injury, and alteration of neuronal networks, depending on the type and duration of seizures.

Tonic-clonic SE: 30 min
Focal SE with impaired consciousness: 60 min
Absence SE: Unknown
4. Refractory Status Epilepticus: SE not responding to atleast 2 doses of Benzodiazepines, followed by phenytoin/valproate and phenobarbitone or midazolam infusion beyond 60 minutes after the treatment has started.
CLASSIFICATION OF STATUS EPILEPTICUS
A) With Prominent Motor Symptoms:
Convulsive SE

(Tonic-clonic)

Myoclonic SE

(Prominent epileptic myoclonic jerks)

Focal motor:

Repeated focal motor seizures (Jacksonian), Epilepsia Partialis Continua (EPC), Adversive status, Oculoclonic, Ictal paresis

Tonic SE

Hyperkinetic SE
B)Without Prominent Motor Symptoms (Non-convulsive i.e. NCSE):
NCSE with coma

NCSE without coma

Generalized: Typical absence, Atypical absence, Myoclonic absence
Focal: Without impairment of consciousness, Aphasic status, With impaired consciousness
Autonomic SE
ETIOLOGY OR CAUSES OF STATUS EPILEPTICUS
1. Known (Symptomatic):
Acute: Sudden antiepileptic withdrawl, Stroke, Intoxication, Metabolic disorders (hypoglycemia, hyponatremia), Alcohol or Benzodiazepine withdrawl, Malaria, Encephalitis, etc.
Remote: Post-traumatic, Post-encephalitic, Post-stroke, etc.
Progressive: Brain tumor, Lafora's disease and other Progressive Myoclonic Epilepsy (PME), Dementia
SE in defined Electroclinical syndromes
2. Unknown (Cryptogenic)
DIFFERENTIATING STATUS EPILEPTICUS FROM PSEUDOSTATUS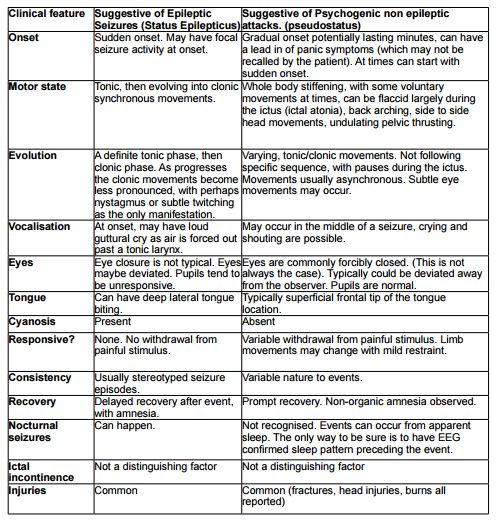 MANAGEMENT OF STATUS EPILEPTICUS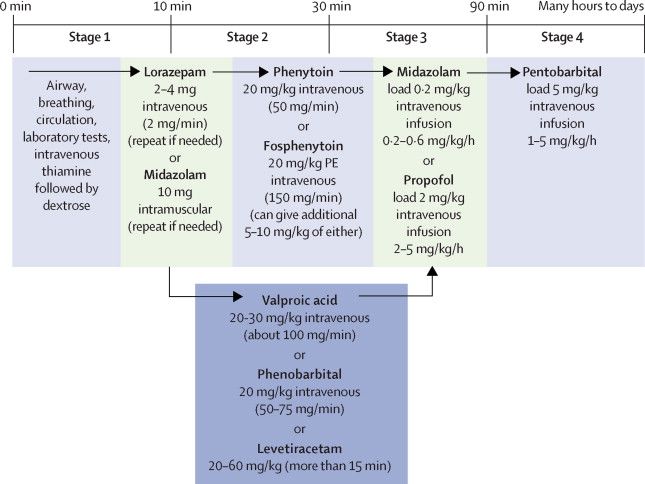 Mnemonic: AAP
0-5 minutes (A):
ABCs
AMPLE hisotry (Allergies, Medications, Past medical history, Last meal, Events preceding)
Adjuncts

Left lateral position to prevent aspiration
Administer oxygen
IV access
Blood samples for glucose, RFT, Electrolytes, LFT, ABG analysis, Anticonvulsant levels
If hypoglycemic: Thiamine 100 mg IV followed by Dextrose 50 gm IV (In thiamine deficients, PDH reaction for converting Pyruvate to Acetyl-CoA requiring TPP cofactor doesn't work leading to shunting of pyruvate to lactate formation; without thiamine replacement – all glucose supplemented goes into pathway of lactate formation)
5-10 minutes (A):
Equivalent dose of Benzodiazepines: Chlordiazepoxide 25 mg = Temazepam 10 mg = Diazepam 5 mg = Lorazepam 1 mg = Alprazolam 0.5 mg = Clonazepam and Triazolam 0.25 mg
Ativan (Lorazepam): 0.1 mg/kg (max 2 mg in children); 2-4 mg in adults at the rate < 2 mg/min

Can cause respiratory depression and decreased BP
May be repeated if needed OR
Midazolam 10 mg I.M. (repeate if needed)
10-20 minutes (P):
Phenytoin 20 mg/kg IV at < 50 mg/min (adults) and < 25 mg/min (children) – total dose < 1000 mg (risk of hypothension and bradyarrhythmias) OR
Phosphenytoin 20 mg PE (1.5 mg Phosphenytoin = 1 mg Phenytoin)/kg at <100-150 mg/minute (less risk of hypotension compared to phenytoin)
A: ABCs
A: Ativan repeat
20-30 minutes (P):
 Phenobarbital 20 mg/kg at < 50 mg/min
A: ABCs, Anticipate Intubation; Volume bolus may be needed
>30 minutes (A): Ativan repeated
40-60 minutes (P):
Phenobarbital repeated 10 mg/kg
A: ABCs, Intubate
A: Arterial line for BP monitoring and Central line for dopamine infusion considered
P: Patient to ICU for Propofol, Midazolam or Pentobarbital
Midazolam 0.2 mg/kg iv infusion at 0.2-0.6 mg/kg/hr
Propofol 2 mg/kg loading followed by iv infusion 2-5 mg/kg/hr
Pentobarbital 5 mg/kg loading followed by iv infusion 1-5 mg/kg/hr