Mnemonic: WHAT caused the hip dislocation?
1. Wear:
Eccentric wear of a polyethylene acetabular cup (common cause of late instability occuring >5 years after procedure) – brings the implant neck closer to the acetabular rim, promoting leverage.
Implant loosening
2. Head–neck ratio:
Larger head-neck ratios allow greater arc range of motion prior to impingement
Large femoral heads are seated deeper within the acetabulum, increasing jump-distance (amount of translation prior to dislocation) and hence increases stability
Many revision hip arthroplasty surgeons advocate the use of 36 mm heads in order to maximize stability and accept the trade-off of a higher rate of volumetric wear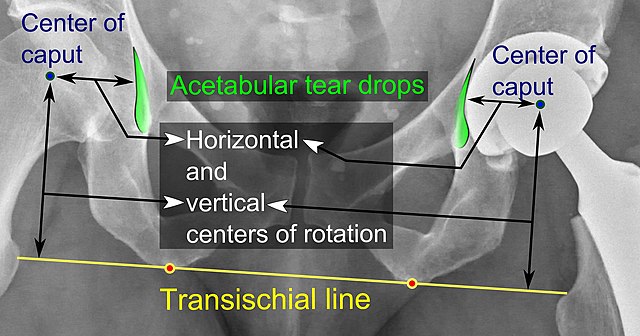 3. Alignment: Restoring the patients' native length, offset and version gives the best chance of implant stability.
Vertical offset:

Lesser trochanter to Center of femoral head (essential for correction of leg length)

Medial offset:

Center of femoral head to the line through the axis of distal part of stem

If inadequate – shortens moment arm (increase impingement and dislocation)
If excessive – increases stress (stress fracture or loosening)

Version and position:

Acetabular anteversion: 5-25 degrees
Acetabular abduction: 30-50 degrees
Femoral stem anteversion: 10-15 degrees
4. Tension: refers to adequate abductor function; weakness of abductors may be caused by –
Posterior surgical approach
CNS or neuromuscular diseases
Decreased femoral offset
Reference: Crozier-Shaw G, Magill P. WHAT causes dislocation of a total hip arthroplasty; a simple mnemonic for the orthopaedic resident. Int Orthop. 2015 Mar;39(3):605-6. doi: 10.1007/s00264-014-2661-y. Epub 2015 Jan 21. PMID: 25720360.