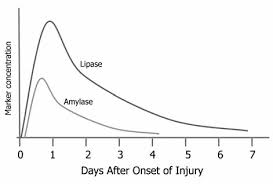 | | | | |
| --- | --- | --- | --- |
| Test | Rise | Peak | Return to baseline |
| Lipase | 4-6 hours | 48 | 8-14 days |
| Amylase | 2-4 hours | 24-48 | 5-7 days |
Serum lipase elevation has a better diagnostic value as compared to serum amylase due to its superior specificity.  
Amylase has a low molecular weight and as a result can easily pass through the glomerulus into the urine.
Lipase and amylase levels have no role in determining the severity or prognosis of Acute Pancreatitis.
Greater the lipase: amylase ratio, the greater is the specificity of alcohol as the etiology of AP.
Potential advantages of serum lipase over serum amylase include a) slightly better specificity b) longer half life and hence greater sensitivity in patients who present late c) greater sensitivity for alcoholic pancreatitis.
In patients with hypertriglyceridemic Acute Pancreatitis, amylase is not significantly elevated. One of the possible explanations is that plasma triglyceride levels >500 mg/dL interfere with in vitro determination of the actual amylase level by preventing the calorimetric reading of the assay end point.
When compared to Acute Pancreatitis with elevated serum amylase, normoamylasemic pancreatitis was characterized by the following:
Alcoholic etiology
Greater number of previous attacks in alcoholic pancreatitis
Longer duration of symptoms before admission
Non-pancreatic causes of raised amylase:
Mnemonic: AMyLASE
Aortic aneurysm
Macroamylasemia
LOBE tumors (Lung, Ovary, Breast, Esophagus cancers)
Acidosis (DKA), Acute renal failure
Salivary gland disease
Ectopic rupture, Esophageal perforation
Non-pancreatic causes of raised lipase:
Mnemonic: LIPASE
Lipasemia (Macrolipasemia)
Inflammatory bowel disease
Peforated duodenum
Acute cholecystitis
Embolism (Fat), Extrahepatic biliary obstruction
References:
Jasdanwala S, Babyatsky M (2015) A critical evaluation of serum lipase and amylase as diagnostic tests for acute pancreatitis. Integr Mol Med 2: DOI: 10.15761/IMM.1000137
Clavien PA, Robert J, Meyer P, Borst F, Hauser H, Herrmann F, Dunand V, Rohner A. Acute pancreatitis and normoamylasemia. Not an uncommon combination. Ann Surg. 1989 Nov;210(5):614-20. doi: 10.1097/00000658-198911000-00008. PubMed PMID: 2479346; PubMed Central PMCID: PMC1357795.