General principles and classification of open fractures have been discussed earlier. The Gustillo-Anderson classification commonly used for the long bone fractures might not be suitable for open pelvic fractures.
Jones-Powell classification
It is based on the mechanical stability of the pelvic ring and the potential contamination of the open wound.
Class 1 – Stable pelvic ring
Class 2 – Pelvic ring unstable (no rectal or perineal wound)
Class 3 – Pelvic ring unstable (rectal or perineal wound)
Mortality:

Class 1 – 0%
Class 2 – 24%
Class 3 – 38%
Faringer Classification
It correlates the site of the open wound and the need for colostomy.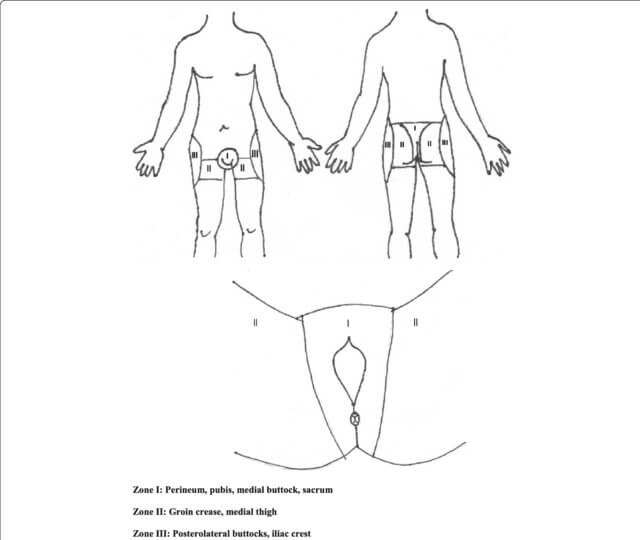 Zone I: perineum, anterior pubis, medial buttock, posterior sacrum)
Zone II: medial thigh, groin crease
Zone III: posterolateral buttock, iliac crest
Faringer et.al proposed that:

1. Most patients with zone I injuries should undergo fecal diversion.

2. Patients with deep lacerations over the posterior buttock should also be considered candidates for diversion, particularly when prolonged bed rest or fecal incontinence is anticipated.

3. Patients with zone II wounds into the subcutaneous fat located in the anterior groin crease or the medial thigh may selectively require fecal diversion.

4. Fecal diversion is rarely required for wounds in zone III.
References:

1. Cannada LK, Taylor RM, Reddix R, et al. The Jones-Powell Classification of open pelvic fractures: a multicenter study evaluating mortality rates. J Trauma Acute Care Surg. 2013;74(3):901‐906. doi:10.1097/TA.0b013e3182827496

2. Faringer PD, Mullins RJ, Feliciano PD, et al. Selective fecal diversion in complex open pelvic fractures from blunt trauma. Arch Surg. 1994;129:958–64.