Who is Dr. Govinda KC (गोविन्द केसी) ?
Better known as: GKC
Names given by media: Fasting doctor, Nepal's Edhi,
Occupation: Senior Orthopedic surgeron at TUTH (Tribhuvan University Teaching Hospital), Kathmandu, Nepal
Reason for Limelight: Series of Fast-unto-deaths to put pressure on the government to stop the rampant commercialisation of medical education, and to make cheap and quality healthcare available to the people of the country.
Birth: March 25, 1957 in Ramechhap, Janakpur Zone, Nepal
Residence: Kathmandu, Nepal (Doctor's quarter at the back of the hospital)
Marital status: Unmarried
Medical education:
Health Assistant (H.A.): Institute of Medicine (IOM), Nepal
M.B.B.S.: Rajshahi Medical College, Rajshahi, Bangladesh
M.S. Orthopedics: Dhaka University, Dhaka, Bangladesh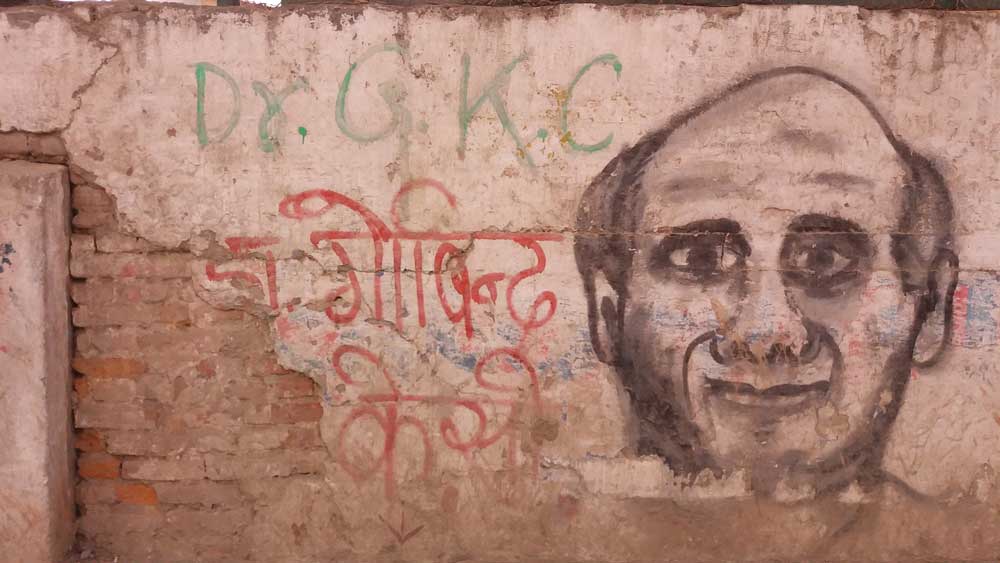 Humanitarian works of Dr. Govinda KC
Nepali Times quoted – "Twice a year he travels to remote parts of Nepal, spending weeks conducting field clinics where he performs operations for those who can't get to hospitals because they have sustained serious injuries during falls from trees and cliffs. KC has travelled to all 75 districts and run medical camps in 60 of them, all of them from his own personal expense."
He has served extensively during the crisis and medical emergenices in foreign nations as well:
2001: Spent 3 weeks in Bhuj region, Gujarat, India treating the injured when a devastating earthquake hit India's western state of Gujarat
2005: Spent 3 weeks treating the survivors of earthquake in Northwest Pakistan
2008: Spent 2 weeks in Myanmar (Burma) to help survivors of Hurricane Nargis
2010: Spent 3 weeks in Haiti after the earthquake where he performed 232 operations
2013: Went to Phillipines to treat people affected by Tsunami
Dr. Govinda KC as a Medical Professional
Professor and Senior Orthopedic surgeon at IOM, TUTH, Nepal (one of the most reputed medical school and hospital in Nepal)
Reputed as a physician with no private practice
Series of Hunger Strikes
At every attempt, the government has promised to fulfil his demands, yet never gone through with its promises. As per the correspondence in Lancet, Dr KC advocates decentralisation and distribution of medical schools and hospitals to rural areas. In Nepal, there are currently 23 medical schools, 17 of them are privately owned and all of them are located in big cities. Investment in medical schools has been a lucrative business, collecting US $ 50 000–60 000 per student. Consequently, more people are investing in medical schools without consideration of quality of education and health services.
1st strike: 2069, Aasar 21 to 24
2nd strike: 2069, Shrawan 27 to Bhadra 1
3rd strike: 2070, Poush 27 to Magh 10
4th strike: 2070, Magh 25 to Falgun 3
5th strike: 2071, Falgun 8 to Falgun 11
6th strike: 2072, Bhadra 7 to Bhadra 20
7th strike: 2072, Ashwin 2 to Ashwin 12
8th strike: 2073, Aasar 26 to Shrawan 11
9th strike: 2073, Ashoj 10 to Ashoj 22
10th strike: 2073, Kartik 28 to Mangshir 19
11th strike: From 2074, Shrawan 8 (continuing)
To see the demands and achievements of previous hunger strike of Dr. Govinda KC click here.
Major Demands of Dr. Govinda KC
Health Professional Education Bill (HPEB) must be passed immediately according to the Mathema-committee report.
Medical colleges disobeying government and court orders must be dismissed immediately.
Until the formation of Medical Education Commission, the fees for all the levels of medical education shall be decided by the government.
Fees for M.D. , M.S.  and M.D.S shall be finalized 22 lakhs from this academic year.
Medical Colleges Stopped in Pipeline due to GKC movement
Manmohan Memorial Medical College and Teaching hospital
Nepal Police Medical College
B and C Medical College, Teaching Hospital and Research Center
People's Medical College
Hashtag Campaign – #iamwithdrgkc and #savedrgkc
The movement of Dr. Govinda KC has collected a widespred social media attention and doctors from all over the country have shown solidarity and support. To follow what's going on:
Facebook:

https://www.facebook.com/hashtag/iamwithdrgkc
https://www.facebook.com/hashtag/savedrgkc

Twitter:

https://twitter.com/hashtag/iamwithdrgkc
https://twitter.com/hashtag/savedrgkc
Criticisms of Dr. Govinda KC within Medical fraternity
Private medical colleges had argued that Dr GKC's recommendations would jeopardise the private medical colleges of the nation. They had demanded that the government should not take away the livelihood of employees working in the medical colleges, reduce the admission quota of students studying in medical colleges fulfilling the set criteria and neglect the domestic capital.
Under the banner of "Save Hospital Campaign", the group of students and officials had demonstrated near Dr. GKC's fasting spot. They said that TUTH should not be made a political playground.
Few people had claimed him to be mad, stupid, stubborn and easily influenced.