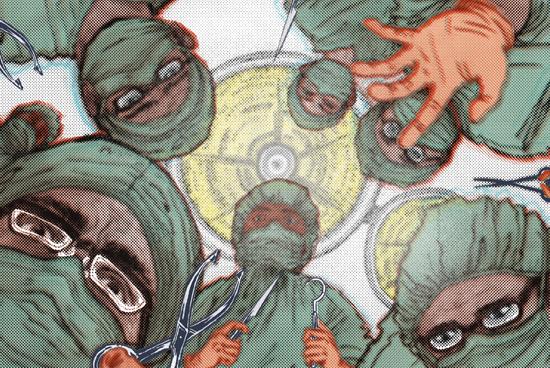 Ten….. nine….. eight….. seven…..
My body sublimes and ascends to heaven
Six…… five…… four…… three…..
Tapes on my eyes, white is all I see
Two…… am I still supposed to hear you?
One……. wait!! I'm awake but unable to move.
Ticktock….. Ticktock….. Ticktock…..
I can count passed seconds in clock
I crave to be heard but without a luck
Beepbeep….. Beepbeep….. Beepbeep…..
I can count my heartbeat – tachycardic
Lying insomniac – waiting for sleep.
In a state of induced sleep paralysis
I'm losing to the pain I can't unleash
No more can I endure, the scalpel's cold kiss
While you pull…. incise….. cut…. split….
My heart grieves for the butchered meat
Your vile humor feels like a bleak.
Sheathing in my veins, your curare
Paralyzed body amidst concreting nightmare
Racing heart rushes blood with fear
Breath my lungs out until I'm out of breathe
Please interpret… I can't communicate
Let me not survive.. this moment I can't forget.
This poem was inspired by the movie "Awake" and is about a dreadful condition known as "Awake under anesthesia"