Glycolysis begins with the phosphorylation of glucose to glucose 6-phosphate (glucose-6-P) by hexokinase (HK). In subsequent steps of the pathway, 1 glucose-6-P molecule is oxidized to 2 Pyruvates with generation of:
2 molecules of NADH (since, glycolysis is a cytosolic pathway, cytosolic NADH cannot cross inner mitochondrial membrane – its reducing equivalents are transfarred to the electron transport chain by either malate aspartate shuttle or glycerol 3-phosphate shuttle)
2 molecules of ATP (substrate level phosphorylation – doesn't require oxygen; only source of energy in anaerobic glycolysis)
Glycolysis is aerobic except in following conditions (in which anaerobic glycolysis occurs):
Limited supply of oxygen: Renal medulla
Few or no mitochondria: RBCs
Greatly increased demands for ATP: Skeletal muscle during exercise
In anaerobic glycolysis, O2 is not needed to re-oxidize NADH (Lactate dehydrogenase or LDH reoxidizes NADH by reducing pyruvate to lactate)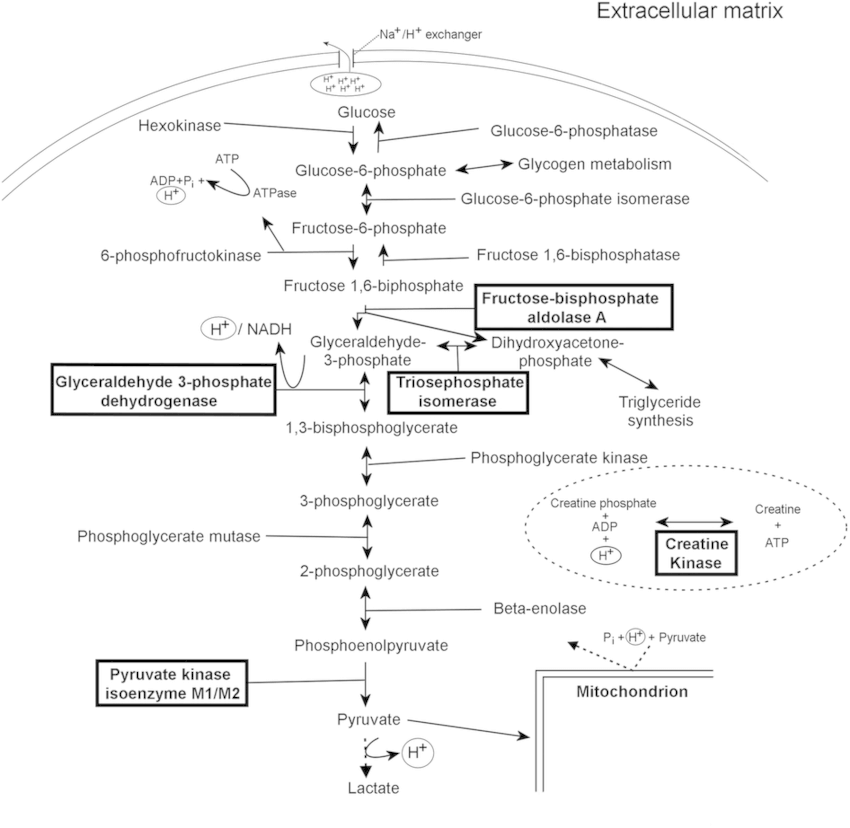 MNEMONIC: Glucose Gives Fructose which Fractures to GAP & DAP to Build 3 Ps & Pyruvate
In the mnemonic:

1st 3 stage: Begins with Glucose and Energy (ATP) is used
2nd 3 stage: 6 C molecule is Fractured (Split) into two 3 C GAP and DAP
3rd stage: Energy is Built and Pyruvate formed

Enzymes:

Kinase: adds or substracts phosphate (phosphorylates or dephosphorylates)
Aldolase: breaks aldose (6 C) to two 3 C compounds (splitting)
Isomerase: Changes one isomer of 3 C compound to another (isomerization)
Mutase: Changes position of phosphate group (mutation)
1. Glucose
---
Glucokinase (liver/pancreas) & Hexokinase (ATP utilized to ADP) – Inhibited by G-6-P & Induced by Insulin
---
2. Glucose-6-Phosphate (G-6-P)
---
Isomerase (reversible reaction)
---
3. Fructose-6-Phosphate (F-6-P)
---
PhosphoFructoKinase/PFK (ATP utilized to ADP) – Rate limiting enzyme (Insulin stimulates, Glucagon inhibits)
---
4. Fructose-1,6-Biphosphate (F-1,6 P)
---
Aldolase
---
5. DihydroxyAcetone Phospate (DAP) and GlycerAldehyde-3-Phsopate (GAP) are isomers
Can isomerize from 1 form to another by Isomerase


---

DAP forms Glycerol-3-Phosphate (G3P) by G3P Dehydrogenase; G3P goes into Triglyceride synthesis and Electron shuttle
---
GAP Dehydrogenase (H+ exchanges between 2 NAD and 2 NADH)
---
6. 1,3-Bisphosphoglycerate (1-3 BPG) – 2 molecules
 In RBCs: 2-3 BPG mutase form 2,3 DPG from 1,3 BPG which binds to β-chains of HbA and decreases affinity for oxygen – shifts oxygen dissociation curve to right
---
Phosphoglycerate kinase (2 ADP generates 2 ATP)
---
7. 3-Phosphoglycerate (3-PG) – 2 molecules
---
Mutase
---
8. 2-Phosphoglycerate (2-PG) – 2 molecules
---
Enolase
---
9. PhosphoEnolPyruvate (PEP) – 2 molecules
---
Pyruvate kinase/PK (2 ADP generates 2 ATP) – activated by F-1,6-P
PK deficiency: Hemolytic anemia, Increased 2,3-BPG, No Heinz bodies (RBCs are without mitochondria and are dependent upon anaerobic glycolysis – PK deficiency leads to decreased ATP leading to:

loss of biconvex shape which gets destroyed in spleen

decreased activity of Na+K+ATPase pump resulting in loss of ion balance and causes osmotic fragility
---
10. Pyruvate – 2 molecules
Aerobic: Enters mitochondria and forms Acetyl-CoA (under action of PDH) to undergo TCA cycle or Fatty acid synthesis
Anaerobic: Forms lactate (under action of LDH) by using NADH generated in glycolysis (G3P to 1,3 BPG)
Note:

DAP is used in liver and adipose tissue for triglyceride synthesis
1,3-BPG and PEP are used to generate ATP by substrate level phosphorylation
3 Enzymes in pathway catalizes reactions that are irreversible – Gluco/Hexokinase, PFK-1, PK
GLUCONEOGENESIS
In fasting, glycogen (for glycogenolysis) reserves decline dramatically in the 1st 12 hours, during which time gluconeogenesis increases (repreasents sole source of glucose after 24 hours). The substrates for gluconeogenesis are:
Glycerol 3-Phosphate (G3P)
Lactate (from anaerobic glycolysis) – forms pyruvate
Gluconeogenic amino acids (from muscle – only leucine and lysine are ketogenic; all other amino acids are either mixed or purely glucogenic; major is alanine) – forms pyruvate
Since, the reaction catalyzed by Pyruvate Kinase (PK) is irreversible, pyruvate doesn't undergo reversed cycle of glycolysis.
Carboxylation: Pyruvate forms OxaloAcetate (OAA) – 3 C to 4 C

using mitochondrial enzyme Pyruvate Carboxylase (requiring biotin) which is activated by Acetyl-CoA (from beta-oxidation of fatty acids; Acetyl-CoA also inhibits PDH, thus shifting pyruvate to OAA from pyruvate carboxylase rather than TCA cycle)

Malate Shuttle: OAA cannot leave mitochondria – hence, undergoes Malate shuttle; in cytoplasm, malate is oxidized back to OAA
Return to reverse glycolysis: OAA forms PEP using PEP carboxykinase (GTP utilized to GDP)

PEP undergoes 3 reversible reactions to form Glyceraldehyde 3 Phosphate (GAP) then, undergoes 1 more reversible reaction to form Fructose 1,6 biphosphate (F 1,6 BP)
G3P forms DAP which undergoes reversible reaction to form F 1,6 BP

Return to glucose using phosphatase:

The glycolytic reactions catalized by glucokinase and PFK-1 are irreversible, hence F 1,6 P goes a different pathway
Formation of Fructose 6-Phosphate (F6P) by Fructose 1,6 Biphsophatase
F6P isomerizes to G6P
G6P forms glucose by Glucose-6-Phosphatase (only in the liver; not found in skeletal muscle – muscle glycogen cannot serve as a source of blood glucose)
Note:

Glucagon will lower F 2,6 -BP and stimulate gluconeogenesis, wherease insulin will increase F 2,6-BP and inhibit gluconeogensis by action of PFK-2 enzyme.

Glucagon inhibit PFK 2 enzyme – decreased F 2,6 -BP – decreased biphosphatase inhibition (more gluconeogenesis)
Insulin stimulates PFK 2 enzyme – increased F 2,6 -BP – increased biphosphatase inhibition (more glycolysis)

Fructose 1,6 Biphosphatase is activated by ATP and Inhibited by AMP and F 2,6 -BP.